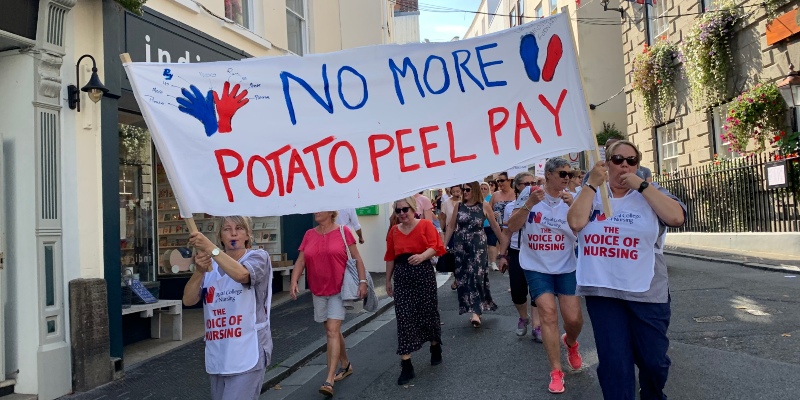 Members in Guernsey are voting on whether to take industrial action, as ballot papers reached the island this week.
The ballot will run until 28 February, with members being asked to vote on whether they are willing to take action short of strike and/or strike action, in order to secure pay parity with other public sector workers. It is only the second time in the RCN's history that a ballot like this has happened.
As Guernsey is an independent country, pay in its health service is negotiated locally. The campaign to secure pay parity with other public sector workers began in 2017 and has continued as part of the 2019 pay round. After two offers were formally rejected by members, the matter was referred for mediation which generated a third offer. This was also rejected, in part because it lacked a clear timetable to resolve the long standing disparity in pay between nurses and others employed by the States of Guernsey.
In response to the ongoing dispute, last November the South East regional board started the RCN's industrial action process by asking RCN Council for approval to have a full industrial action ballot.
After mediation failed the matter was referred to an industrial tribunal for a decision. Unhelpfully the tribunal would only rule on the pay rise for 2019 which will not resolve the bigger concern about parity.
An approach to discuss the industrial action ballot with the employer took an interesting turn when it became clear that they too recognised the tribunal would not resolve the dispute and they offered fresh talks. This move was welcomed by the RCN and other unions involved and they, jointly with the States of Guernsey (the employer), asked for this tribunal to be postponed pending the outcome of further talks taking place at the end of February.
The RCN remains cautiously optimistic that these talks may provide a solution. In the meantime, all members eligible to vote are urged to complete and send back their ballot papers as soon as possible. In the event further talks fail, a positive ballot outcome will mean we are ready for action.
RCN South East Regional Director Patricia Marquis said: "Our members have been receiving their postal ballots this week and are now returning their votes. It's an emotional moment for many who, of course, are considering the impact of the vote on their patients. A strong vote will send a clear signal to the employer. Paying nurses properly is vital to ensure a sustainable nursing workforce to deliver high quality health service to the public of Guernsey.
"As ever, we are committed to finding a solution through talks so while we ballot our members, we hope for meaningful discussions when we meet again with the States later this month."