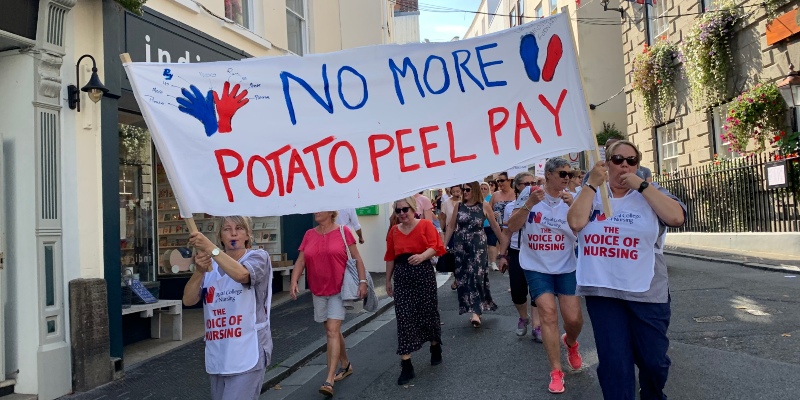 RCN members in Guernsey have voted to go on strike as part of their ongoing fight for pay parity with other public sector workers on the island. However, a date for industrial action will not be set while talks with the States of Guernsey remain positive.
The four trade unions involved in the pay talks met with the States of Guernsey Policy and Resources Committee on Thursday and Friday last week (27-28 February) to try to find a way through the deadlock.
At the same time, a ballot on industrial action and strike action closed on Friday (28 February) with 61% of RCN members turning out to vote. Of these, 95% voted for action short of strike and 86% voted to strike.
Patricia Marquis, RCN Regional Director for the South East, said: "I'm exceptionally proud of our members. Each and every one who took the time to vote were doing so to have their say on the future of nursing and health care in Guernsey. It is not something any of them will have taken lightly and the results speak for themselves.
"Given the positive nature of the talks we remain cautiously optimistic that we can find a way forward without having to take industrial action. But we must be clear: if the talks do not provide the solution that our members are seeking, we will notify the States of our intention to strike."
The RCN was approached to re-open negotiations with the States when the start of our industrial action ballot was announced. The initial talks have been constructive with a shared sense of determination from all parties to seek a solution that addresses the concerns of Agenda for Change staff.
More talks are scheduled for 18 March. We will reassess the situation at that point but until then, while the talks are ongoing, we will not set any dates to take industrial action.
Patricia added: "We are hoping we can shape a deal that addresses our members concerns about the ongoing disparity between nursing pay and that of others in Guernsey. It is essential that this is addressed to ensure a sustainable nursing workforce that will continue to deliver the highest quality health and social care service for the people of Guernsey. We hope the meeting on 18 March will enable us to continue to find a solution together."
The ballot results stay live and can be enacted at any point over the next six months if the talks fail to deliver a solution that members are prepared to accept.
If the negotiations result in an improved offer, this we will be shared with members who will be asked to decide whether to accept it or not.
The ballot was undertaken by Civica Election Services. See the full results.