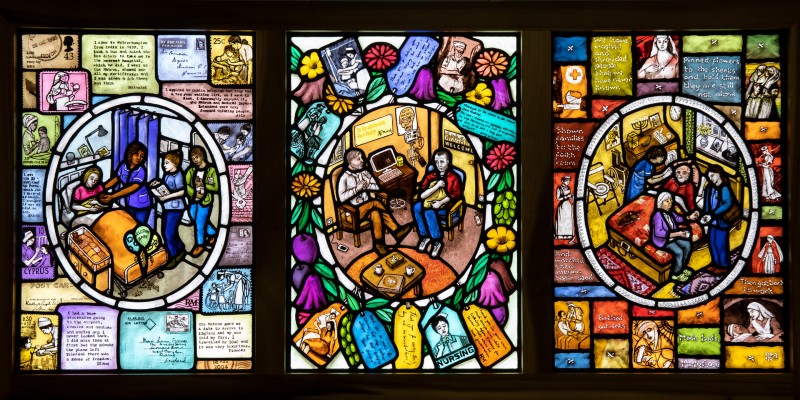 A new exhibition exploring the history of emotions in nursing, created with input from RCN experts and members, has launched at the RCN's London headquarters.
Who Cares? A History of Emotions in Nursing shows how nursing has been shaped by ideas about class, race and gender, as well as shifts in practice and politics, during the past 150 years. Produced in collaboration with Queen Mary University of London and funded by the Wellcome Trust, the exhibition covers six key emotional themes: birth, death, romance, faith, war and protest.
Visitors will be asked to question which, if any, emotions are necessary for good care and whether the ideas of Florence Nightingale and other nurse leaders still affect the way we view nursing today.
"The exhibition will take visitors not only through the emotions nurses themselves feel, but also the way the perception of nursing has changed over the years," says Sarah Chaney, Exhibition and Events Manager at the RCN.
"Nurses can experience a range of emotions every working day. Whether it is being there when a child takes their first breath, providing life-saving care on wards or in the home, or holding the hand of a patient as they pass away, the emotions linked to nursing are wide-ranging."
Three new stained-glass windows, created by artist Rachel Mulligan in collaboration with RCN members, demonstrate the role of nursing in these life stages. "The windows show the complexity of nursing: how the clinical and technical expertise of the nurse and the emotional side of nursing are not separate, but need to be considered all together," says Sarah.
Alongside the windows, items from the RCN collection, including Florence Nightingale's annotated bible and a locket containing her hair, will be on display. Visitors can also see historical objects from the Imperial War Museum, King's College London Archives and others. Charms and amulets illustrate the courage expected during the First World War, while Mills & Boon novels written by nurses show how romantic stereotypes changed the image of the nurse in the post-war period.
Sarah adds: "The exhibition will take visitors through all of these emotions and give them the opportunity to leave their own comments at the end."