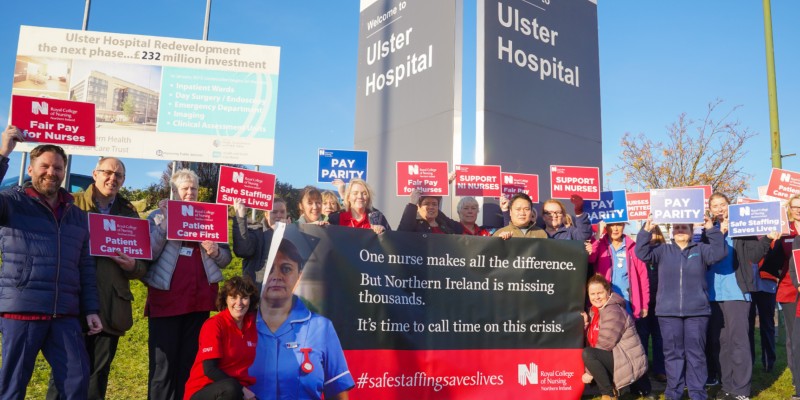 RCN members working in Health and Social Care (HSC) services across Northern Ireland have begun a further 48 hours of industrial action as they push for pay parity with nursing staff in the rest of the UK and improved staffing levels. They are working strictly to their contracts of employment, which means starting and finishing on time, taking breaks, and refusing to perform non-nursing duties.
It follows an historic first day of industrial action last Tuesday (3 December).
Today's action has gone ahead after renewed pay discussions took place between the Department of Health and health trade unions last week. A new pay offer was tabled but rejected as it fell significantly short of members' requirements.
Director of the RCN in Northern Ireland Pat Cullen said: "Nurses have made it clear that they expect pay parity with England and Wales, as well as concrete measures to address the nurse staffing crisis in Northern Ireland. These expectations are the basis of our industrial action.

"Despite the intervention of the Secretary of State for Northern Ireland, with whom the RCN met, it's clear that Department of Health officials are still incapable of grasping either the severity of the crisis in our health service or the determination of nursing staff to secure safe staffing and pay equality.

"Nurses are no longer prepared to listen to the same excuses from the Department of Health about budgets and/or not having the ministerial authority to deliver an acceptable pay award even if the money were available. Our health service is collapsing as we speak. It is simply not good enough for civil servants to continue to play with words and fail to take effective action to resolve this crisis. The RCN believes the gap between what the department is offering and what nurses expect in terms of pay parity can be achieved.

"The RCN has consistently stressed its willingness to continue discussions with the Department of Health. The department must, however, be prepared to formulate proposals that actually address the issues nurses have highlighted."