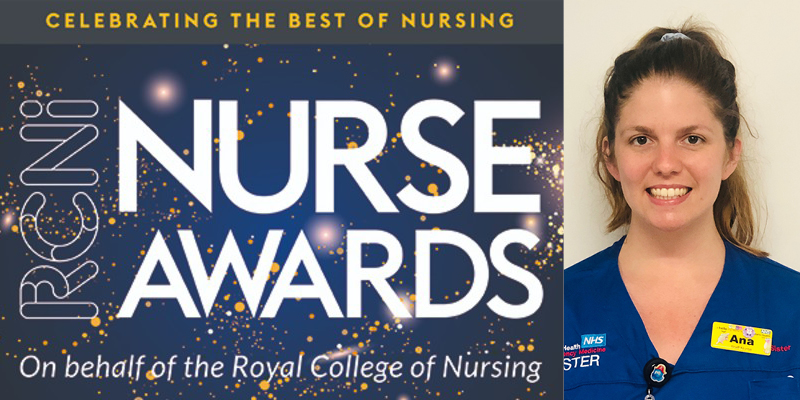 Feeling frustrated and helpless at the number of young people attending her emergency department as victims of serious violence, Ana Waddington set up a project to teach them life-saving skills. She dedicated enormous amounts of time and her own money to set up YourStance, a 150-strong group of volunteer nurses, doctors and paramedics from all over London.

Now her initiative has been recognised with the accolade of RCN Nurse of the Year. "Receiving the award is a huge privilege," said Ana, who is a sister in the paediatric emergency department at the Royal London Hospital, part of Barts Health NHS Trust. "I hope it will show other nurses that there are a vast number of opportunities out there, and if you have a passion for an idea, you can do it."

Ana was inspired to act by one particular young patient. "He came in with an arterial bleed and his friends had not put pressure on the wound," she recalled. "This simple technique done at the scene would have saved his life." But more recently, her department saw a patient with a life-saving tourniquet. "He had advised bystanders on how to do this from attending our sessions," Ana said.
Before the COVID-19 pandemic, the YourStance team had delivered 23 sessions and reached more than 400 young people. Participants in the sessions learn about cardiopulmonary resuscitation (CPR), haemorrhage control and the consequences of knife-related injuries.
RCN Deputy President Yvonne Coghill, chair of the RCNi Nurse Awards 2020 judging panel, said: "I was totally blown away by Ana. Her work teaching young people what to do after someone has been the victim of knife crime is revolutionary and should be replicated across the health sector.

"Ana is so professional, innovative and hardworking. She deserves to be named RCN Nurse of the Year."

RCN Nurse of the Year is the overall winner of the RCNi Nurse Awards, which celebrates the successes of nursing staff across 12 categories.

Dame Donna Kinnair, RCN Chief Executive & General Secretary, said: "To see how exciting nursing is today, you need only look at these awards and the outstanding people nominated. Each story speaks of ability and achievement across so many areas of our diverse and brilliant profession.

"Congratulations to Ana, and all the other winners and entrants who have so much to be so proud of. With this year designated as the International Year of the Nurse and Midwife by the World Health Organization, and when the pandemic has so clearly highlighted the remarkable work of nursing staff, it feels especially poignant to celebrate our profession in this way."