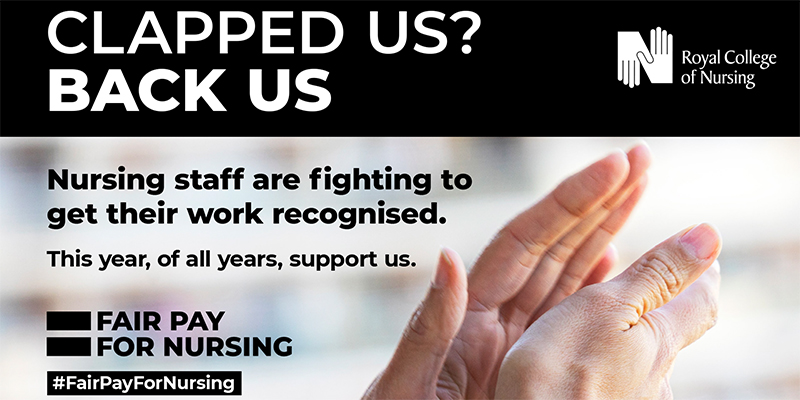 We're inviting you to join RCN Council and committee members, and RCN Chief Executive & General Secretary Dame Donna Kinnair for an online pay rally on 25 November.
The event, taking place from 6.30pm to 7.30pm, will be an opportunity to find out more about our fight for fair pay and how you can get involved.
Speakers will include author and nurse Professor Christie Watson, Dame Donna Kinnair, Chair of the RCN Trade Union Committee Graham Revie, RCN Chair of Council Dave Dawes and RCN President Professor Dame Anne Marie Rafferty.
The rally follows our "Clapped us? Back us" campaign billboard which was displayed outside the Houses of Parliament last week. The billboard's slogan calls on politicians, and everyone who clapped the NHS on their doorsteps earlier this year, to support our Fair Pay For Nursing campaign.
Dame Donna said: "The clapping was powerful and lifted the spirits of many. But the government must grasp the nettle this year and value the work of nursing staff.
"It shouldn't have taken a pandemic and public applause to shine a light on this work, but the government has an opportunity now to end years of injustice.
"The job is tough and complex and yet we are worse off now than 10 years ago. If you clapped us, now is the time to show you back us."
Find out more about the rally.
There's still time to ask your MP to commit to fair pay for nursing ahead of the government's upcoming spending review.
Use the template on our website to email your MP today – it only takes a couple of minutes to complete.