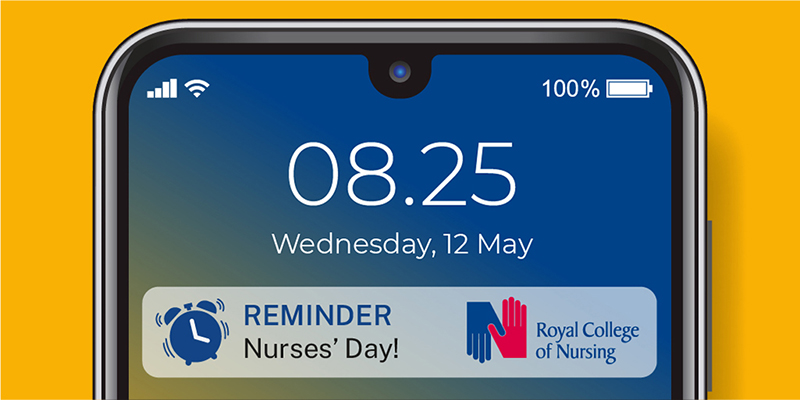 To mark Nurses' Day 2021 on Wednesday 12 May, we're highlighting what it means to be a nurse and how our members have led patient care during the COVID-19 pandemic.
We're inviting RCN members to get involved. You can download posters for your home and workplace and share how you're marking the day on social media with #NursesDay.
We're also inviting all members to join our online event where inspiring RCN Fellows discuss the challenges and opportunities the pandemic has presented for our profession.
We'll be sharing the stories of RCN members who've shattered stereotypes of nursing with their complex and varied work. Hear the stories of:
Elaine, an ICU matron overseeing care of some of the sickest COVID-19 patients
Rosa, who tailors care to reach people experiencing homelessness
Neomi, whose grassroots group supports black nurses facing workplace discrimination
Alison, whose quick thinking protected her care home residents from COVID-19, and many others.
RCN members have already been preparing for Nurses' Day by ordering badges, sharing their plans for the day on social media and downloading posters to display in their workplaces.
Primary school children in some RCN regions in England have also been hearing more about nursing as a career with sessions delivered by RCN staff.
On the day, we'll share new videos and messages from supporters across the UK, who all recognise the value of nursing staff. Please get involved and look out for our Nurses' Day videos and member stories and share these on your social media accounts on the day too.
Our President, Professor Dame Anne Marie Rafferty, will also be representing members at the Florence Nightingale Commemoration event at Westminster Abbey on 12 May.