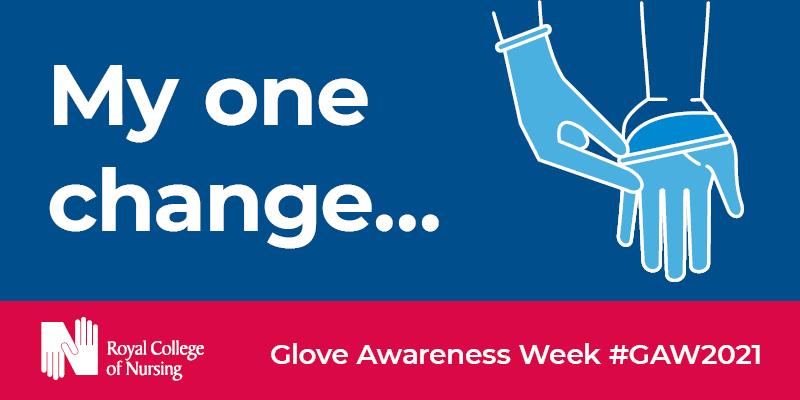 "Make one change" is the message we're sending to members during Glove Awareness Week, which runs from 3 to 7 May. By taking small steps to reduce inappropriate glove use, nursing staff can decrease their impact on the environment and improve their hand health.
We're encouraging all members to think about the ways they can protect their hands while still keeping themselves and their patients safe. Inappropriate and overuse of gloves carries risks, not only of infection but also of damage to the hands.
Members can pledge to:
only using gloves when necessary
remove gloves as soon as possible after the care task is complete
use emollient creams after handwashing to protect the hands and keep them moisturised.
They're also encouraged to post on social media using our pledge cards and share their ideas for making one change to safely reduce the use of gloves in their own care settings.
Rose Gallagher, RCN Professional Lead for Infection Prevention and Control, said: "The pandemic has very clearly demonstrated the importance of the right protective equipment. It has also, however, demonstrated the reality and risks of wearing it for extended periods of time.
"Gloves are an integral part of that protection, but they can be over-used and often worn when they are not necessary. This can lead to long term, and sometimes permanent, damage to the hands.
"If nursing staff could make just one change to reduce their reliance on gloves it could help prevent damage to hands while still protecting themselves, their patients and our planet's resources."
RCN National Officer Kim Sunley added: "We have seen how easily frequent handwashing can lead to and exacerbate contact dermatitis of the hands.
"Ultimately this can become painful and restrictive and can see nursing staff needing to move out of clinical areas due to the risk of infection. For some nursing staff, the condition can become very debilitating and make it difficult to carry on nursing.
"It's in everyone's interest, especially employers, to take steps to prevent this from happening. Identifying early warning signs and addressing issues at an early stage is really important."