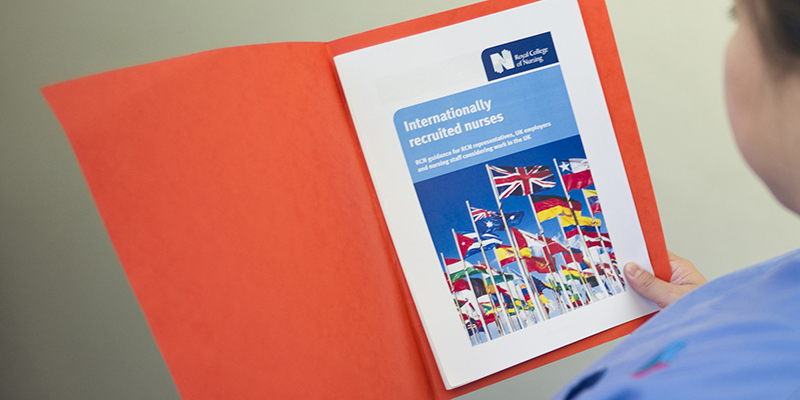 A new report from the Migration Advisory Committee (MAC), an independent body that presents policy recommendations to government, has rejected an Australian-style points-based immigration system. It has suggested retaining a minimum salary threshold for workers coming to the UK with a job offer, with a points-based system for skilled workers who do not have a job lined up.
Dame Donna Kinnair, RCN Chief Executive & General Secretary, said: "The recommendations of the MAC to maintain a restrictive immigration system appear to fall short of what is required to meet the workforce needs of the health and social care sectors, now and in the future.
"While international recruitment shouldn't be used as a replacement for domestic workforce supply, it's clear that overseas recruitment of health and care staff will need to continue in the short to medium-term so that services can fill the growing number of vacant posts."
In December 2019, the RCN called for the existing £30,000 salary threshold to be reviewed, for the immigration health surcharge to be scrapped, and for a reduction in application costs for nurses coming from outside the EU.
The new report suggests a lower threshold of £25,600 for NHS employees. However, this would still restrict the recruitment of nursing support workers.
"We are disappointed to see that our concerns in relation to the need for an appropriate immigration route for social care workers, care assistants and support workers appear to have been ignored," Dame Donna said. "This is a missed opportunity to urge the government to reshape the immigration system into one that recognises the public value that health and care occupations bring to the UK."
Health and care services in the UK depend on staff from outside the EU, with 568,000 employed in the NHS, social care and other areas, an increase of over 100,000 since 2009/10, according to the Nuffield Trust.
Dame Donna continued: "Maintaining arbitrary salary thresholds will not enable the health and social care services to recruit and retain the number of health and care staff needed to meet the needs of the UK's population.
"Temporary salary threshold exemptions for only part of the workforce are not sufficient. This is especially true in the context of the current workforce shortage crises.
"As the government considers this report, we hope they will put patient safety and the health and care needs of the UK population first."