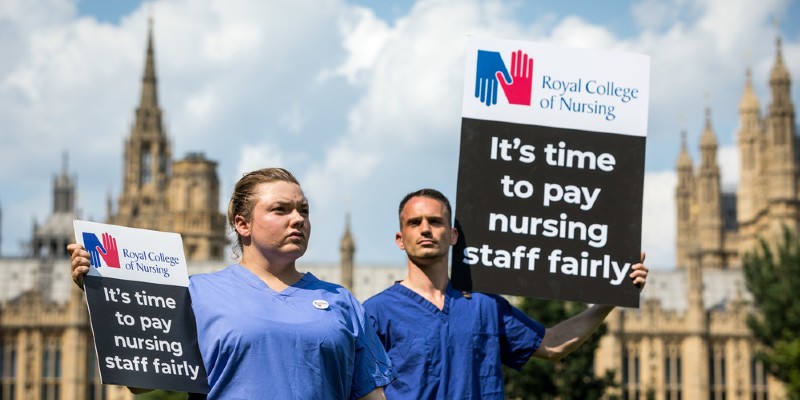 Today the health and social care levy takes effect, which sees national insurance contributions rise from 12% to 13.25%. This is a tax increase to pay for the same health and care services many RCN members work in.
If the government sticks to its suggestion of giving NHS staff in England a 3% pay rise this year, we've calculated that a nurse at the top of band 5 will face a real terms drop of £935 in their take home pay in the face of rising inflation. That's based on a current annual salary of £31,534 and inflation forecast to be 8%.
The figure is similar in Northern Ireland and Wales, where NHS pay scales closely mirror those in England. The Scottish government is yet to begin negotiations for this year's pay, meaning nursing staff working for the NHS don't yet know how much they're going to be paid as they face higher bills.
With the cost of living spiralling out of control and decades of below inflation pay awards, we're reminding ministers that without proper investment in the nursing profession, they risk losing more staff and putting patient care in jeopardy.
RCN Director for England Patricia Marquis said: "Today's national insurance rise is part of a concerning financial outlook set to leave an experienced nurse £935 per year worse off in real terms even after the UK government's proposed 3% NHS pay award.
"Nursing staff are already feeling the financial strain with the recent increase in petrol prices, heating bills and the cost-of-living crisis.
"They feel they have given a huge amount throughout the pandemic and are now being asked to pay for the recovery of the very health and care system they kept running for the last two years.
"The efforts of the pandemic will leave a lasting mark on those that led the response with many saying they're exhausted and that there is not enough staff for them to do their jobs properly. This is the reality of the tens of thousands of nursing vacancies across health and care.
"Ministers now have a simple choice to make – give nursing staff the pay rise they deserve that does not leave them worse off in real terms or risk an exodus of the very staff they need for the long-term recovery of safe patient care. Not acting now will make that recovery take even longer."
The RCN is campaigning for an NHS pay rise of 5% above inflation. You can help spread the word by having conversations with colleagues, family members, patients and friends about the way pay impacts on staffing levels at work. You have the power to create real change by coming together and taking action with backing from the RCN. Find out more about our Fair Pay for Nursing campaign.