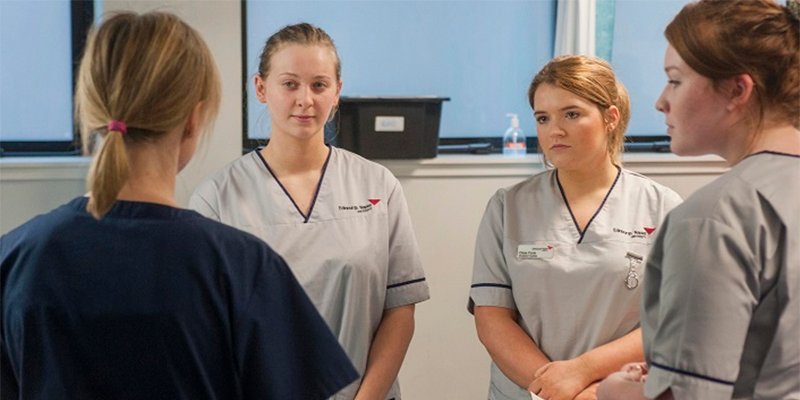 More detail has been published on the implications for nursing students, who aren't in their final six months of their undergraduate degree, during the COVID-19 pandemic.
The Nursing and Midwifery Council (NMC) has developed a set of emergency standards which allows more flexibility to be applied to the delivery of nursing and midwifery programmes at this time.
The aim is to enable students to make a valuable contribution whilst completing their studies, and to ensure that more junior students are appropriately deployed and adequately supported.
It means that:
first-year nursing students will continue with their degree programme, with clinical placements paused for the duration of the emergency. These nursing students may volunteer or undertake paid work in a clinical setting in their spare time, while they maintain their academic study. However, volunteering or paid work will not be counted towards the practice hours and experience required to complete their pre-registration course.
all other nursing students, including postgraduate diploma and masters students, but excluding third-year students in their final six months of their undergraduate degree will be invited to opt-in to an arrangement where they may spend 80% of their time in clinical practice, which will be remunerated and count towards practice hours. These students will spend 20% of their time in academic study during this emergency period to ensure structured, regular contact with their approved education institution.
The RCN, alongside other trade unions and royal colleges, will provide expertise with and on behalf of its student members to inform the development and implementation of guidance, ensuring individual choice is paramount within the context of emergency measures.
RCN Chief Executive & General Secretary Dame Donna Kinnair said: "The unprecedented measures outlined today by the NMC will enable nursing students, who I know are keen to do what they can in this crisis, to provide much-needed support to the registered nursing workforce.
"It will be important that those students are fully supported, supervised and remunerated for their valuable contribution. These arrangements are voluntary and students will not be disadvantaged if they decide that they're not able to work in clinical practice, for whatever reason.
"I'd like to reiterate my thanks and ongoing gratitude to the continuing dedication and commitment of all nursing staff and students during this time which is difficult and worrying for us all."
We're working closely with the RCN Students Committee on all new developments and constantly updating our COVID-19 online advice for students. Please check back there frequently for the latest guidance. We're also providing updates via the RCN Students Facebook page and would encourage students to join.
Third-year nursing students in the last six months of their undergraduate degree programme can find out how they're affected by other recently announced measures in our news story.