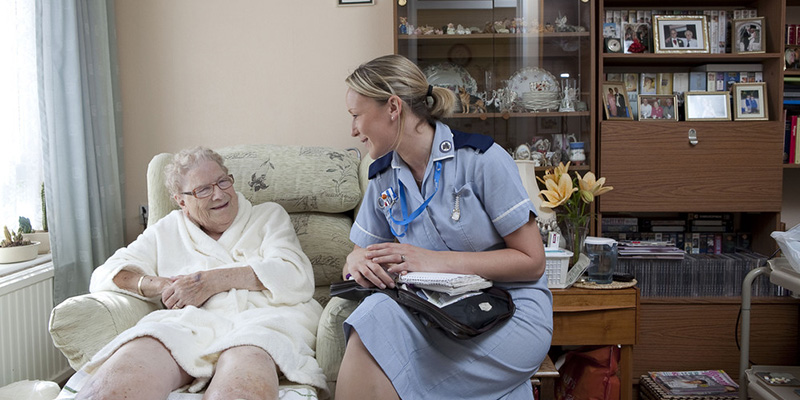 A new report from the RCN and Queen's Nursing Institute (QNI) shows the number of district nurses working in the NHS in England has dropped by almost 43% in the last 10 years. As a result, there are only 4,000 district nurses providing care for a population of around 55.8 million people.
The NHS Long Term Plan, which was published earlier this year, sets out aims for more nursing care to be delivered in the community and in people's homes. It identifies district nursing services as crucial to delivering these aims.
The joint report says urgent investment and training is needed to make that vision a reality and meet the challenges caused by simultaneous rising patient demand and falling numbers of highly-qualified district nursing staff.
The report also warns that district nurses are working to capacity and unable to provide consistent high-quality care due to pressures on their service. The profession faces serious recruitment and retention challenges with an older workforce and insufficient qualified nurses to replace those who retire.
RCN Associate Director of Nursing Yinglen Butt said: "Given the fundamental role district nurses play in delivering personalised care close to home, and in reducing the burden on hospital providers, the chronic underfunding of this service is an outrageous false economy.
"District nurses provide a lifeline for patients, many of them frail and elderly, who often can't leave their own homes to get care elsewhere.
"It's time ministers undertook a proper assessment of staffing needs based on the fundamental principle of patient safety, and enshrined explicit accountability for delivering this into law."
The report Outstanding Models of District Nursing explores all the elements which need to be in place to support an outstanding district nursing service and includes the views and experiences of patients, carers, commissioners and GPs.