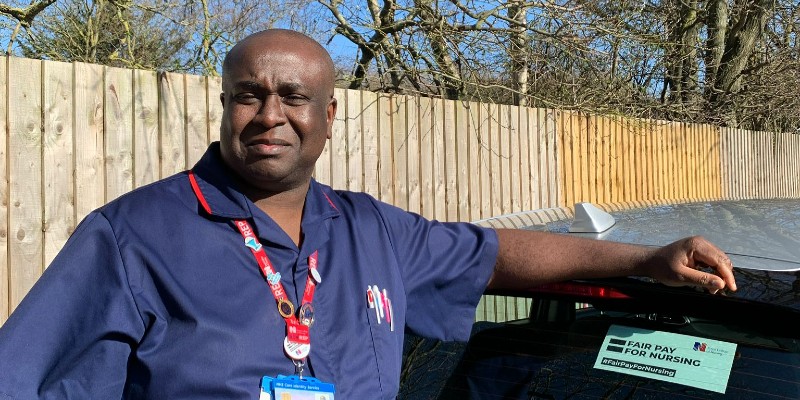 Nursing staff risk being forced off the road by soaring fuel prices unless the Chancellor takes urgent action in his Spring Statement next week.

We're calling for an urgent review of NHS mileage rates in the wake of the fuel crisis and for NHS employers across the UK to provide an immediate additional payment.

Staff caring for patients in their own homes and other community settings most often use their own vehicle to travel to and from visits, with some driving hundreds of miles a week.

Nursing staff working in the community have told us the cost of filling up their cars has risen recently by as much as £100 a month, putting a strain on already tight finances.
Clinical nurse lead Chukwudubem Ifeajuna (pictured above) said: "It's costing at least £20 more each time I refuel, and that is putting pressure on every member of my team. We drive to see patients every day and we can't keep supporting this with increased prices."

We're worried patients will be impacted if nurses are unable to carry out frequent home visits – with chronic conditions potentially worsening and complications being missed.

"Seeing patients get better – seeing their progression from receiving care at home – is what I love about community care. They heal better in their own environment. With these higher fuel costs I'm worried we won't be able to see them there as regularly," adds Chukwudubem.

RCN General Secretary & Chief Executive Pat Cullen said: "The Chancellor needs to urgently help nursing staff hit by the eye-watering fuel prices in his Spring Statement.

"The situation is becoming unsustainable – what will happen if nursing staff can't afford to fill up their cars? It is patients who will ultimately suffer.

"With many nursing staff already considering leaving the profession, this extra cost and pressure won't do anything to encourage people to stay."

Nursing staff on NHS Agenda for Change (AfC) contracts, or with AfC mileage allowances in their contracts, can claim 56p per mile for the first 3,500 miles and 20p for each additional mile. But with prices at the pump soaring by at least 10% in the last month, staff are being left increasingly out of pocket. They can't afford to subsidise the NHS as prices continue to climb.

This additional financial pressure reinforces the RCN's pay ask – we're calling for a pay rise of 5% above inflation, which was running at 7.5% when we submitted our evidence to the NHS Pay Review Body.

Patient safety and staffing are at the heart of our Fair Pay for Nursing campaign. Only by paying the workforce fairly will enough nursing staff join and stay in the profession, which in turn allows for safe and effective care for patients by a highly skilled, experienced workforce.