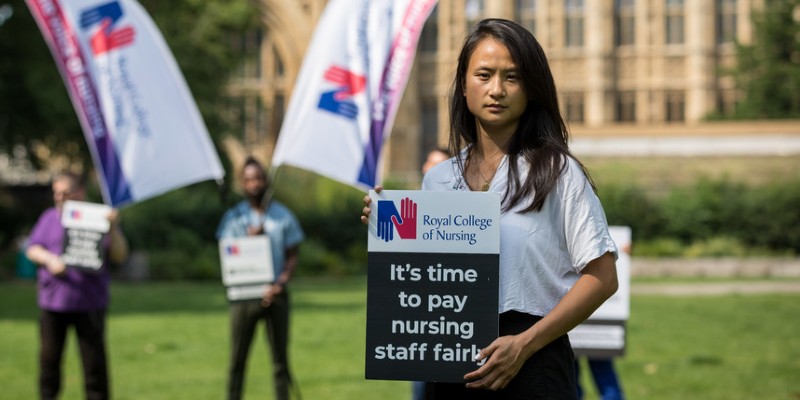 The RCN consultation on NHS pay has opened today (12 August) and will close at noon on 13 September.

Members working for the NHS in England and Wales can have their say on whether the 3% pay award for 2021-22 is acceptable.

The consultation will be carried out by Election Services (Civica), to ensure independence and rigour. From today, members should look out for emails from Civica containing a link to vote.

Eligible members may vote on whether the 3% pay award is acceptable or unacceptable. This is an opportunity to show how they feel about the pay award and inform the RCN's next steps. Next steps might include further ballots that gauge members' appetite to pursue some form of industrial action.

It is vital that as many people as possible take part, however members will only be consulted if their RCN record shows that they work for the NHS in England or Wales. RCN members can update their details here.

Pat Cullen, RCN General Secretary & Chief Executive, said: "This is your chance to speak up for patients. You know what the fallout from this pay award will be where you work, and I know you will not let the government ignore the voice of your patients."

Graham Revie, Chair of the RCN Trade Union Committee, said: "We want to hear from as many eligible members as possible to let your view lead the RCN in our endeavour to achieve a fair deal for nursing in the NHS. Encourage your colleagues to have their say too. Get involved in our Summer of Action events, invite your friends and family members as well. We will not stop until nursing is respected, protected and, most of all, valued."

Ministers in Northern Ireland are yet to decide what they will award HSC staff. The RCN continues to put pressure on ministers to state their position and will consult members in Northern Ireland as soon as this happens.

In Scotland, members continue to be in a trade dispute with the Scottish government and NHS Scotland employers after they rejected an offer which gave them an average 4% pay increase.

The RCN's Fair Pay for Nursing campaign launched last year asking the government for a fully-funded 12.5% rise across NHS Agenda for Change pay scales. This figure is based on extensive research showing the affordability and economic benefits of a 12.5% rise, plus member research highlighting how concerns over pay could lead many to leave the profession.