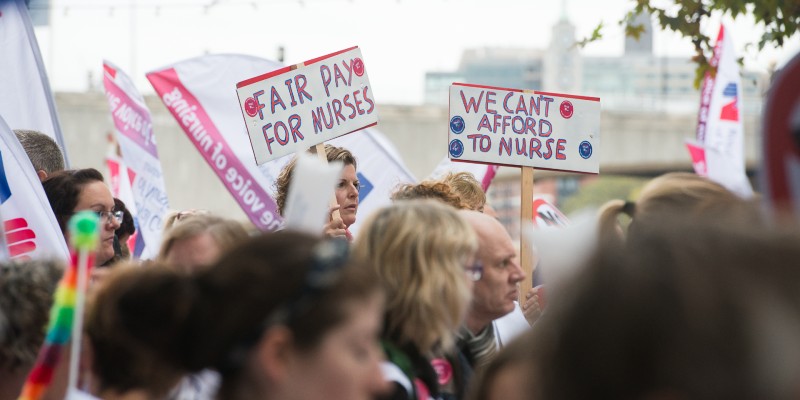 Eligible RCN members in England and Wales have voted in our consultative ballot on the 3% pay award for NHS Agenda for Change staff.

A significant number of members took part in the consultative ballot, with 91.7% of those who voted in England saying they think the pay award is unacceptable, and 8.3% saying they think it is acceptable.

In Wales, 93.9% of members who voted said they think the pay award is unacceptable, with 6.1% saying they think it is acceptable.

Of those eligible to take part in the consultation in England, 25.4% turned out to vote. In Wales the turnout was 29.3%. The turnout in England is up by a third compared to the turnout in the NHS pay consultation in 2018 and is the RCN's highest ever consultative ballot turnout.

Your elected representatives on the RCN's Trade Union Committee will now carefully consider the results and decide on next steps. They will be seeking the views of the RCN Wales Board and the RCN English regional boards. A range of options could be progressed, with the results and level of turnout being considered. Members will be the first to know when decisions are made.

Chair of the RCN Trade Union Committee Graham Revie said: "RCN members have made their voices heard and ministers in Westminster and Cardiff must think again about how they are treating nursing staff. Members deserve to be paid fairly – nursing has earned it and our patients deserve it.

"Unsafe staffing levels hamper patient care. Fair pay is one major way of keeping people in work and attracting the next generation into our profession.

"The future of this campaign will always be determined by RCN members – this campaign is led by members like me in the interests of the whole profession."

Alongside the consultation, the RCN ran a Summer of Action with more than 70 events for members and the public to show their strength of feeling about the need for a fair pay rise for nursing staff. The RCN's pay campaign has been featured more than 5,000 times across print, online and broadcast media over the past six months.

In response to the vote results, RCN General Secretary & Chief Executive Pat Cullen urged ministers to "avoid a further escalation of this situation" by taking action to pay nursing staff fairly.
"Just a week after Boris Johnson talked about 'good wages' for nursing staff, our members are delivering a clear verdict on his NHS pay award," she said.

"Our members expect to see action from governments across the UK to pay nursing staff fairly. It is against the best interests of the health service, staff and patients for this issue to remain unaddressed – ministers are pushing people out of nursing when there are tens of thousands of unfilled jobs and patient care is being impacted."

The RCN is campaigning for a 12.5% pay increase for all nursing staff covered by Agenda for Change terms.

In Scotland, RCN members continue to be in a trade dispute with the Scottish government and NHS Scotland employers after they rejected an offer which gave them an average 4% pay increase.

In Northern Ireland, the Minister for Health has said he wants to award NHS staff a 3% pay rise but members there will have to wait until October to see if the additional funding requested from the Northern Ireland Executive will be made available to fund it.

The consultation for England and Wales was carried out online, including final verification of results, by the independent scrutineer Civica Election Services. In advance, we encouraged members to update their details to make sure they were consulted if eligible. More than 18,000 members did this before the vote closed.