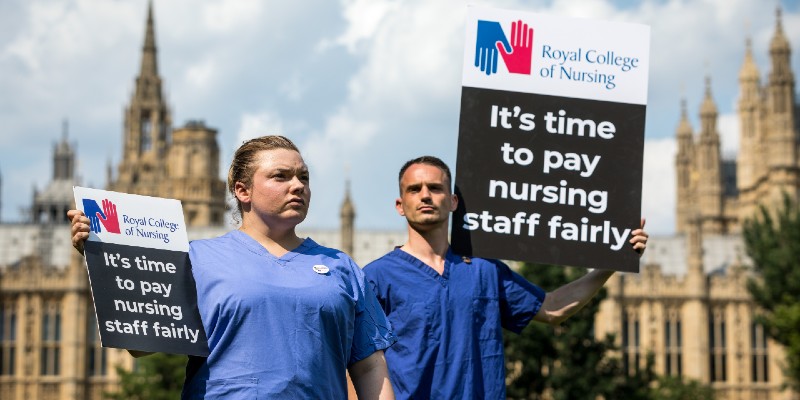 RCN members working for the NHS in England on Agenda for Change contracts are to be asked whether they'd be willing to take industrial action in an indicative ballot launching on 4 November.
The ballot will ask eligible members whether they're willing to take any form of industrial action, such as strike action or action short of strike, or whether they'd be willing to support colleagues to take industrial action even if they wouldn't take action themselves.
The result of the indicative ballot will not formally authorise industrial action but will be used to inform next steps in our fight for fair pay. If it is clear that enough members would take some form of industrial action, then a further ballot may be organised to take this forward.
The RCN is clear that industrial action is always a last resort, but we're also clear that the current staffing crisis in the NHS is causing unacceptable risk to patients and staff.
The ballot will be run by Civica Election Services with voting open from 4 to 30 November. Eligible members will receive their ballot email from RCN@cesvotes.com. To make sure the ballot reaches the right people, members' details must be correct in MyRCN.
Check your details now
.
The ballot is being launched after 92% of members working for the NHS in England who voted in our previous consultative ballot said their 3% pay award for 2021-22 is unacceptable
.
RCN Director for England Patricia Marquis said: "Patient care has to be at the heart of the recovery of the NHS, but this can only be done with investment in the people needed to deliver it.
"Those in power need to understand that only by paying nursing staff fairly will they prevent an exodus of the people they rely on to keep health and care services running."
Chair of the RCN Trade Union Committee Graham Revie added: "Ministers must know how nurses feel, but right now they're choosing to ignore the calls for a fair pay rise that finally recognises the sacrifice, skill and professionalism of the largest workforce in the NHS.
"We have to make sure the voice of nursing is impossible to ignore. I urge members to take part in this ballot and tell us whether they're willing to take industrial action to turn things around for our patients and make it possible for us to give them the care they deserve."
You can find out more about how industrial action is initiated, organised and safely carried out by reading our
Industrial Action Handbook
.
Across the UK, our fight for fair pay continues and won't stop until our safety critical profession is respected and protected.
In Scotland, members working for the NHS are already voting on what industrial action they'd be willing to take over pay in an indicative ballot that closes on 8 November.
In Wales, the RCN has lodged a formal trade dispute with the Welsh government over its 3% pay award for NHS nursing staff
and
an indicative ballot on industrial action will also be launched on 4 November.
In Northern Ireland, a formal pay announcement for HSC staff is still awaited.
Our Fair Pay for Nursing campaign
aims to secure a fully-funded 12.5% pay increase for all nursing staff covered by Agenda for Change terms. How governments in the UK respond to this demand will indicate what they believe nursing staff across the independent sector deserve too.
It's time to pay nursing staff fairly.
Join our fight
.