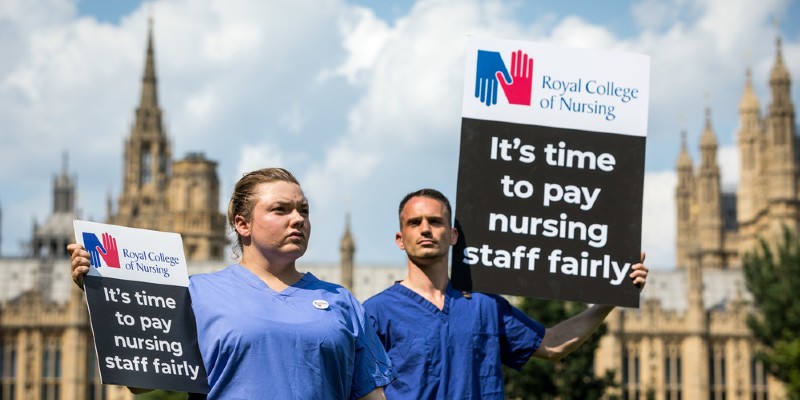 Ministers must turn the tide on years of unfilled nursing jobs by giving staff a pay award of 5% above inflation. That's what the RCN is demanding as it reveals its NHS pay expectations for the entire UK.
It comes as the NHS pay review body (PRB) process runs for England, Northern Ireland and Wales with direct negotiations in Scotland imminent.
The PRB advises governments on Agenda for Change pay, terms and conditions and takes evidence from trade unions, employers and governments. At the time we submitted our evidence, the Retail Price Index (RPI) measure of inflation was 7.5%.
This year, patient safety and staffing are at the heart of our pay campaign. Only by paying the workforce fairly will enough nursing staff join and stay in the profession.
We've launched a short survey about staffing levels on members' last shift to help us make the case for urgent investment in the nursing workforce. It only takes 10 minutes to complete.
Last month, the UK government indicated an NHS pay award of 2-3% for staff in England for 2022-23. The amount set aside for NHS pay in Westminster determines the initial funding available in all parts of the UK.
RCN General Secretary & Chief Executive Pat Cullen said: "If the government doesn't listen to us, it will be to the detriment of patients when more and more nursing staff decide to leave the profession.
"With three months until they're expected to make an announcement, they must listen to people who work in our health and care services.
"When a nurse or health care support worker feels no alternative but to leave, it becomes ever more challenging to provide highly effective care and treatment. They deserve salaries fitting of a safety critical profession.
"By summer, ministers must come back with a pay award that turns the tide on the years of unfilled nursing jobs and experienced professionals struggling to make ends meet."