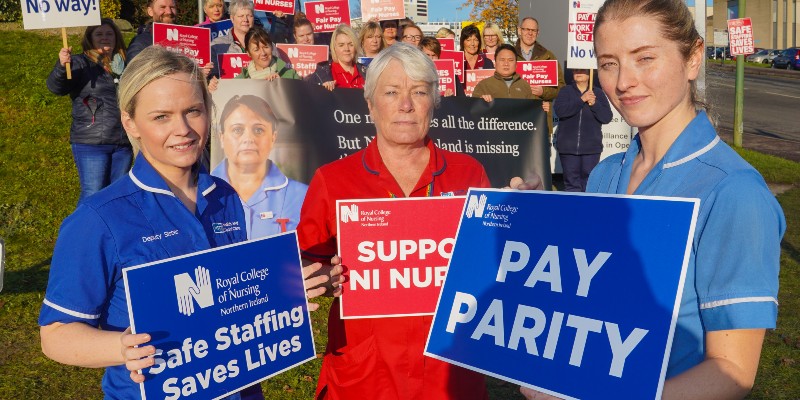 RCN members working in Health and Social Care (HSC) services across Northern Ireland will today begin a programme of industrial action, following a recent ballot. It's the first time in the RCN's 103-year history that members have voted to take such action.
It's in response to the staffing and pay crisis, which is putting nurses under intolerable pressure and threatening the quality of patient care.
There are 2,800 vacant nurse posts within the HSC and nurse pay has fallen by 15% in real terms in recent years. Nurses in Northern Ireland are the lowest paid in the UK.
Industrial action short of strike starts today, Tuesday 3 December, followed by two further days on Tuesday 10 and Wednesday 11 December. The first day of strike action will be on Wednesday 18 December.
RCN Northern Ireland Director Pat Cullen said: "This is a day that no member of the RCN ever wished to see. The last thing that any nurse wants is to have to take industrial action. However, nurses now feel that we have no choice. The RCN has been raising the issues of pay inequality and short staffing for many years, but nobody in the corridors of power has listened.
"Today, our members will be on duty as normal, providing direct patient care, but will work strictly to their contracts of employment. This means starting on time, finishing on time, taking contractual breaks and not performing the non-nursing duties that they should not be performing anyway.
"This is a critical moment for the HSC, and we all wish to see a rapid and effective solution to the crisis that is now unfolding. Our members, the health service workforce, and the people of Northern Ireland deserve so much better."
RCN Chief Executive & General Secretary Dame Donna Kinnair added: "For better or worse, nurses have earned a reputation for resilience and soldiering on. To hear they've reached their limit must make people sit up and take notice.
"The crisis in the health service in Northern Ireland has pushed members to reluctantly take a stand for themselves and their patients. They should take some comfort from knowing that I and every other nurse is standing with them. Every part of the RCN is pulling behind winning this dispute."
Guidance for RCN members, with answers to frequently asked questions, is available on the
RCN website
. A dedicated telephone advice line for members is also now open from Monday to Friday on 028 90 687 136. On days of industrial action, this helpline will be available from 8am to 8pm.