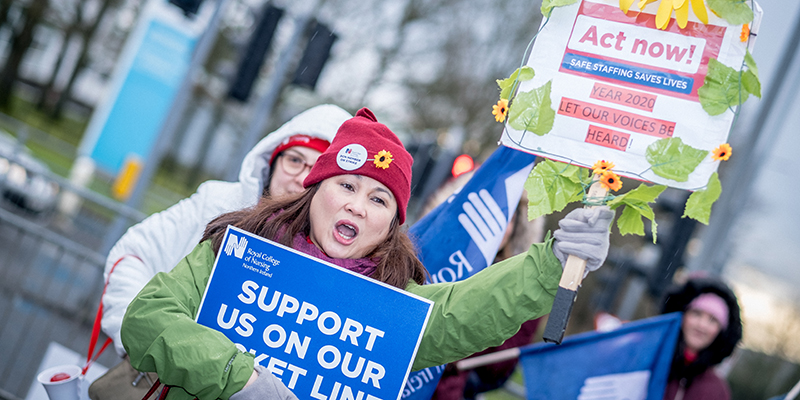 Members of the RCN in Northern Ireland are taking strike action for the third time to demand urgent measures to address unsafe staffing levels and deliver pay parity with colleagues from across the UK.
Pat Cullen, Director of the RCN in Northern Ireland, said: "It is with great dismay that nursing staff begin this third day of strike action. Nurses do not want to be standing again on picket lines, losing another day's pay, and feel totally let down that they have been put in this position yet again.
"Our members are absolutely determined to fight for a health service that patients in Northern Ireland deserve. Nurses have shown courage and resilience during this dispute and will continue to do so until we can achieve a system that is fit for purpose."
Though there has been speculation about a political resolution in Northern Ireland being imminent, the RCN will not make any decisions on standing down industrial action until it has written confirmation that its requirements for full funding for pay parity and safe staffing will be met in full.
The next scheduled dates for strike action are Monday 20, Wednesday 22 and Friday 24 January.
"The RCN has written to party leaders urging them to ensure that our devolved institutions are restored with immediate effect and that decisive and immediate action be taken to avoid the necessity of further industrial action," Pat added.
"There is no other choice but to start to work together to build a better health service for the people of Northern Ireland. Nursing staff have made it clear that this is the very least they expect from our political representatives."