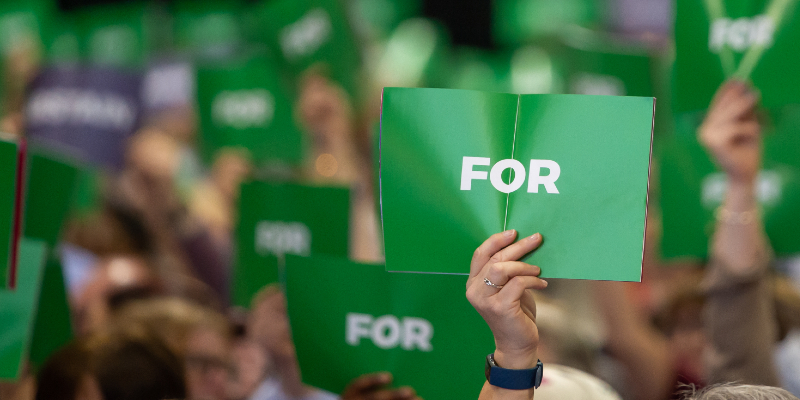 Nursing staff today (7 June) overwhelmingly condemned conversion therapy, calling for an "inclusive" ban, which includes all LGBT+ people across the UK.
Members at the RCN's annual Congress heard that conversion therapy goes against any form of ethical or evidence-based nursing practice and "has no place in society".
In April, the UK government said it would ban conversion therapy for gay, lesbian and bisexual people in England and Wales, but not for transgender people.
The practice, which seeks to change someone's sexual orientation or gender identity, was described by nursing staff as is "an abomination" and a form of "torture".
At the conference, a motion was passed overwhelmingly by attendees calling for the RCN to campaign for a ban on the practice across all four UK countries.
The vote comes as MPs get ready to debate whether to include trans conversion therapy in the UK government's upcoming ban.
The RCN reminds MPs of the views of nursing professionals and those with lived experience.
Introducing the debate, proposer Jason Warriner said the four countries of the UK were at different stages in relation to the practice, adding: "We need an inclusive ban."
He said: "The RCN has a proud history of standing up for LGBT+ rights. From opposing the ban on teaching children about LGBT+ issues, to being the first Royal College to ever march in Pride.
"It is our responsibility to continue that fight today and to oppose conversion therapy."
Other nursing staff spoke in support of the motion.
Rachael Ridley said she had seen the harm conversion therapy had done: "It's another form of torture. It can lead to feelings of shame, self-harm and suicidal thoughts."
Nicholas Cooke argued that staying silent on the issue would be a failure as nursing staff and as human beings: "It's not health care. It kills people. It puts patients in the line of harm."