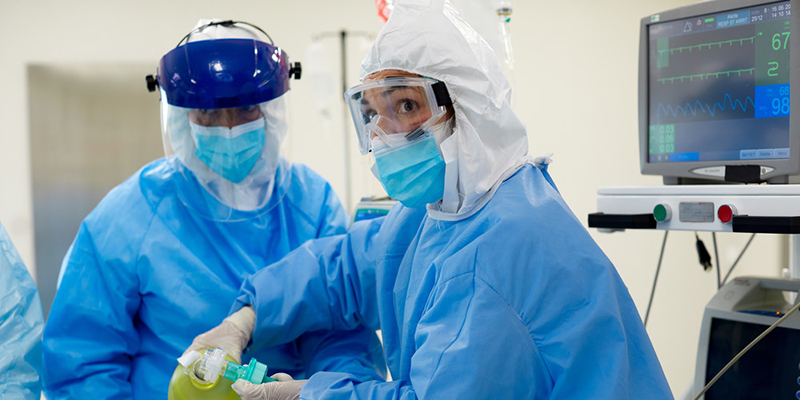 When nursing staff at the Royal Free London NHS Foundation Trust faced unprecedented challenges during the COVID-19 pandemic, they took it upon themselves to push for positive change.
The length of shift patterns in the trust changed in 2017, going from 11.5 hours down to 10.75 hours, with proportional breaks.
At the time, nursing staff expressed their concerns about the changes.
Those on permanent contracts had to take on extra shifts to make the same monthly pay as before, and the decrease in hours per shift meant that staff had less financial incentive to pick up bank shifts – which led to concerns about short staffing and increased chances of burnout.
In March 2021, supported by the RCN members campaigned for a reversion to the old pattern and more investment in critical care staffing.
They coordinated actions across two sites – Royal Free Hospital and Barnet Hospital – to demonstrate to decision makers that they were a united front.
When critical care staff were dealing with a surge of COVID-19 patients in the second wave, they felt that staffing levels were dangerously low – with one critical care nurse looking after up to six patients on their own – so RCN members organised a collective team meeting for all nursing staff.
From there, issues were outlined, collective letters were sent to decision makers, and other collective actions were undertaken to demonstrate the extent of the issue.
Following a successful campaign, the trust has agreed to return to the previous shift pattern and the structure is being introduced this week.
Additionally, the trust will be investing a significant amount of money for additional nursing staff posts – which will affect over 2,500 nursing staff.
Jess Moorhouse, a learning rep at Royal Free hospital who spearheaded the campaign, said: "What kept us all going was the collaborative effort.
"The fact that so many of us, across different sites as well, were involved and behind the motion to make changes to our shift patterns made all the difference. No one could have done this by themselves.
"The implications of changing hours in a trust as large as ours are huge. There were times when I felt quite fearful, but having the support of my colleagues and the RCN was so important to getting us across the finish line."
RCN Director for England Patricia Marquis said: "By coming together through the RCN, our members at Royal Free London NHS Foundation Trust have demonstrated how organising, determination and a passion for nursing can lead to positive change.
"Thanks to their perseverance, changes to shift patterns have been made in very quick time, proving the true power the voice of nursing has when members collectively advocate for change.
"The RCN Organising Programme is highlighting this is the moment for nurses to speak out together. They can change the work they do from today onward."
On the 18 November, the RCN is hosting a free interactive workshop titled Organising for Change: How nursing staff won fairer shifts and safer staffing at a major NHS trust. The workshop will explore how RCN members and The Royal Free London secured changes to their shift patterns and the organising methods they used to achieve real change. Click here for more information and to register your interest.