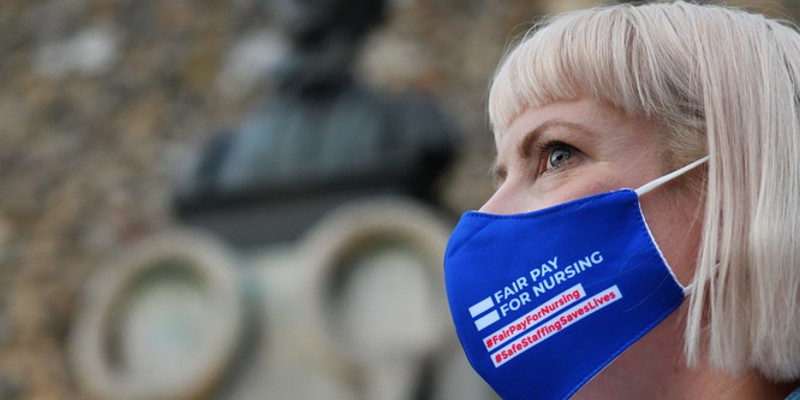 From the Angel of the North, to the Clifton Suspension Bridge and Fistral beach in Cornwall, members will bow their heads in silence today in response to the 3% NHS pay deal imposed on them by governments in England and Wales.
By protesting in this respectful way members say they're standing in direct contrast to the way they've been treated following an incredibly challenging year.
Members working in the NHS in England and Wales have until noon on Monday 13 September to vote in our consultation asking whether they find the 3% pay award acceptable or unacceptable.
The results will inform our next steps, which might include further ballots that gauge members' appetite to pursue some form of industrial action.
The silent protests are part of our summer of action that has seen members hosting events across the country to campaign for fair pay.
The RCN is campaigning for a fully funded 12.5% pay increase for all nursing staff, which recognises the complexity of skill, responsibility and experience demonstrated every day by members of the profession.
RCN General Secretary & Chief Executive Pat Cullen said: "The voice of nursing has been ignored for such a long time that many members are now lost for words at how ministers are treating them.
"They were sent to fight the pandemic without adequate protection and now they have a pay deal that even the UK government admits leaves them worse off.
"Politicians who see our members standing vigil today should realise it's not too late to change their minds – but they have to be willing to start the conversation."
Latest figures from NHS England show the number of nursing vacancies increased to nearly 40,000 in June, an increase of more than 4,000 in just three months.
Unless there is urgent investment in the workforce, this looks set to increase. With inflation expected to rise to 3.7% by the end of this year, the 3% NHS pay deal is effectively a pay cut.
Have your say in our NHS pay consultation before the deadline.