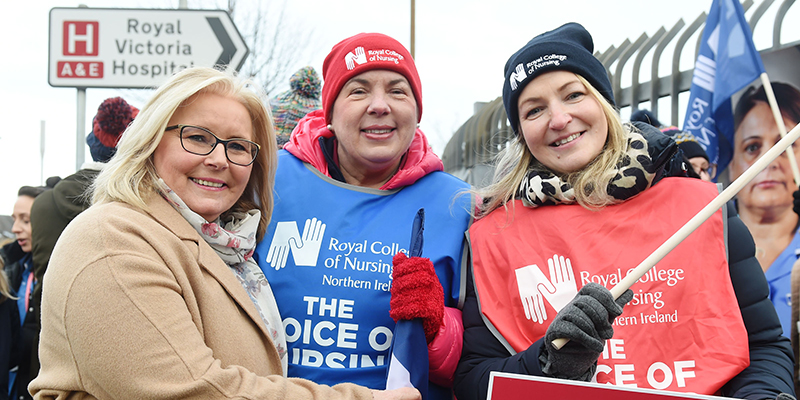 Today (14 January), representatives from the RCN met with Northern Ireland's new Health Minister, Robin Swann MLA, and other health trade unions in an attempt to resolve the dispute over pay parity and nurse staffing levels that has led to recent strike action.

Following a positive discussion, an extraordinary meeting of the RCN Northern Ireland Board has been called for this Thursday (16 January). At this meeting, the board will consider formal communication awaited from the minister. On receipt of this correspondence, the suspension of strike action scheduled for next week may be proposed.

RCN Northern Ireland Director Pat Cullen (pictured above, left, with members) said: "We're pleased the minister has listened carefully and responded quickly to our concerns, and that the situation in relation to pay parity has now been resolved.
"We are also satisfied that real progress has been made in relation to safe staffing and recruitment and retention of nursing staff. The minister has committed to a costed implementation plan for safe staffing within an agreed short period. There is a long way to go and we will work closely with the minister and Department of Health to find a sustainable way forward.

"Resolving the difficulties in relation to safe staffing has been at the forefront of concerns for RCN members and we made it very clear to the minister that this issue must be dealt with urgently.

"Nurses in Northern Ireland have been determined to ensure that these issues have been kept at the top of the political agenda. We are immensely grateful to our members who have stood up for patients and nursing during this difficult period of industrial action. At all times during this dispute, they have worked tirelessly to ensure that patient safety has been prioritised.

"We sincerely hope that the developments today will be the start of a new era for health in Northern Ireland and that nurses, who are instrumental in this process, will be given the resources required to get the job done."
RCN Chief Executive & General Secretary Dame Donna Kinnair added: "We need details in writing from the minister but today's steps are hugely significant and our members can feel proud at the assurances they've secured.

"It was our concerns over patient safety that drove us to take this action and what we're beginning to hear about staffing levels reassures me that we're being listened to.

"For too long, pay for nursing staff in Northern Ireland has lagged behind other parts of the UK and today we have moved a huge step closer to ending that."