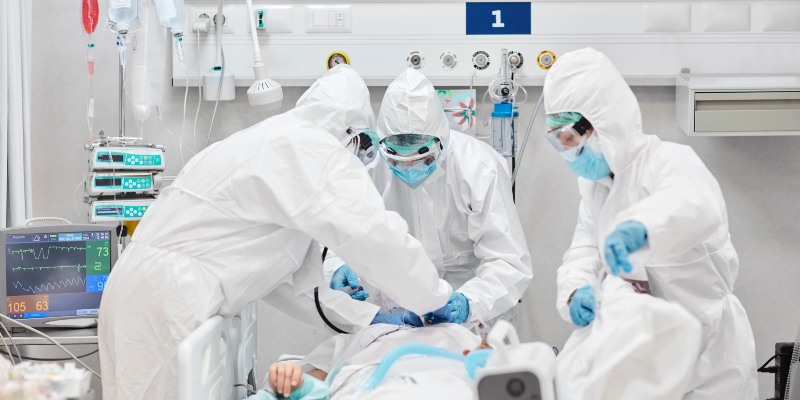 The RCN is seriously concerned about staff wellbeing and patient safety as intensive care units (ICU) across the UK experience extremely high levels of activity and operate considerably beyond their usual capacity.
It is recognised that there are not enough critical care nurses and ICUs are having to respond by reducing the critical care nurse to patient ratio from 1:1 to meet demand.
NHS England and NHS Improvement with Health Education England issued guidance in December on workforce models for hospitals during COVID-19, which stated the staffing standards for intensive care units can be temporarily suspended. It said:
nurse to patient ratios could be maintained at a minimum of one trained critical care nurse for two level 3 patients, compared with the normal 1:1 ratio, supported by one other registered nurse
and one trained critical care nurse for four level 2 patients, compared to the normal 1:2 ratio, supported by one registered health care professional.
The RCN understands from its members that nurse to patient ratios in ICU are being diluted more than this, and that ward areas are also significantly short staffed.
We're firm that dilution of ICU nurse to patient ratios should only happen in exceptional circumstances where there is a need to expand capacity, despite escalation to regional and national critical care networks; and when all local and regional mutual aid options, including inter-regional assistance, have been exhausted.
The RCN has also sought explicit confirmation of how the current context will be considered in any ensuing Fitness to Practise cases from the Nursing and Midwifery Council (NMC).
The UK Critical Care Nursing Alliance (UKCCNA), of which the RCN is a member, also requests that departments of health in the four nations provide further guidance on how increased workforce requirements are managed.
RCN Chief Executive & General Secretary Dame Donna Kinnair said: "The safe ratio in intensive care units is one nurse to each patient. With every change to this ratio, the pressure on nursing staff increases and it becomes harder to provide care to patients.
"This is not safe practice, but it has become unavoidable in many hospitals. It is exacerbated by the severe shortage of nursing staff, which is not only affecting ICU but many wards packed with seriously ill patients where nurse to patient ratios are very high.
"We must see an urgent response from the government that addresses the chronic underfunding of nursing over many years.
"Nursing staff are already doing everything they can, but this is not sustainable. Many nurses and other health care staff are off sick which is making an intolerable situation even worse. Conditions are very difficult, and it is taking a toll on their physical and mental health."
The RCN insists reducing the ratio of specially trained intensive care nurses to patients must be a temporary measure and only used when it is absolutely necessary. Outside of pandemic conditions, national recommendations for critical care nurse-patient staffing ratios for level 2 (1:2) and level 3 (1:1) patients should continue to be the standard. Staff must also be supported to raise and escalate patient safety and psychological concerns.