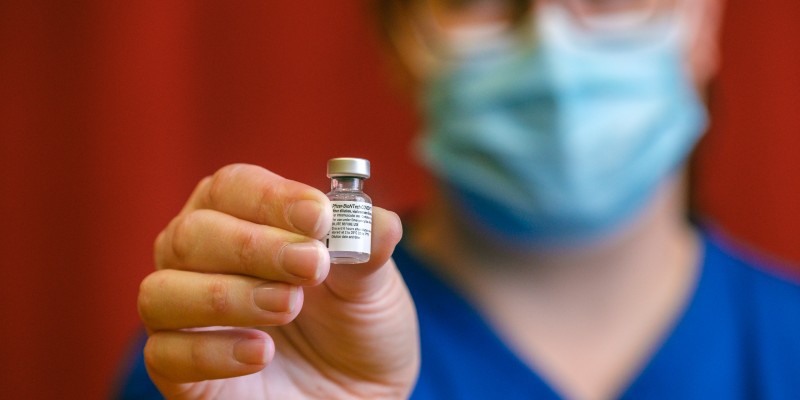 The RCN is calling on Health Secretary Sajid Javid to delay the implementation of mandatory COVID-19 vaccination for NHS staff in England as the service faces major staff shortages.
The College supports the use of vaccines against COVID-19, with its members at the forefront of the vaccine rollout and the vast majority of health and social care staff double vaccinated.
However, we're concerned about the impact of the new law as high levels of staff absence due to COVID-19 leave services so stretched that patient safety is at risk.
Our calls come after health trust leaders raised the alarm about staff shortages. One London hospital chief executive told the BBC that 10% of the 14,000 employees were still unvaccinated.
From April, frontline NHS staff in England will need to have had the COVID-19 vaccination or be redeployed from their patient-facing roles unless they're exempt. Those that cannot be redeployed are expected to lose their jobs.
An impact assessment by the Department of Health and Social Care suggests that as many as 73,000 NHS staff in England could lose their jobs as a result of the policy.
There are already around 40,000 registered nurse vacancies in the NHS in England. These workforce shortages and the unrelenting pressure nursing staff have been under for nearly two years is compromising patient safety, the RCN warns.
Pat Cullen, RCN General Secretary & Chief Executive, said: "Nothing matters more to a nurse than caring for their patients safely. Right now, our members are telling me they can't always do that.
"We're calling on the government to recognise this risk and delay a move which, by its own calculations, looks set to backfire. To dismiss valued nursing staff during this crisis would be an act of self-sabotage.
"Encouraging people to get vaccinated is the best way to boost vaccine take-up. Nursing staff, who are well-placed to understand people's concerns and are highly trusted by them, have led the COVID-19 vaccination programme and have a key role to play in addressing any concerns people may have about being vaccinated."