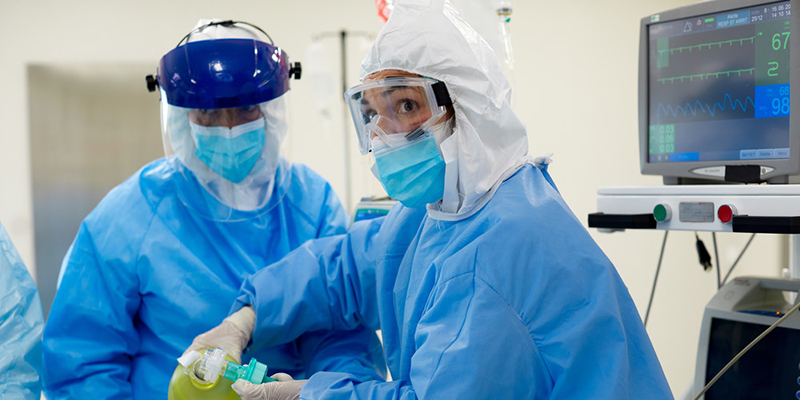 Data published by the Office of National Statistics (ONS) today, shows that 414 health care workers and 469 social care workers in England and Wales have died from COVID-19 between 9 March and 28 December 2020.
The data is broken down into job roles but doesn't include information on other demographics, such as ethnicity.
The RCN is calling for more detailed information on how COVID-19 is impacting health and care workers to be recorded so this can be analysed to make more effective policies. Improved information, including on ethnicity and health conditions, will help UK governments assess the impact on at-risk groups and address inequalities.
The RCN is also continuing to demand that all NHS staff be given a higher level of personal protective equipment (PPE) as a precautionary measure to protect them against new COVID-19 strains and, last week, called on the UK government to intervene and demand an urgent review of infection prevention and control guidance.
RCN Chief Executive & General Secretary Dame Donna Kinnair said: "The loss of life of health care workers is heart-breaking and is felt profoundly by every member of the nursing community. Our thoughts are with the family and friends of all of them.
"The fact the rate of death amongst nursing staff is significantly higher than the general population highlights the absolute need to properly investigate why this is happening and give them the protection they need.
"We also need to see real-time information on the demographics including ethnicity of those who have lost their lives. We have repeatedly called for those from black, Asian and minority ethnic (BAME) backgrounds to be given greater protection.
"Only with quality information and proper reporting can we have confidence that the full loss of life is known, and no family feels their loved one has been forgotten. Nursing staff are fearful, angry and too many are mourning the loss of colleagues."
On 11 March, the RCN is holding an online commemorative event offering members the opportunity to gather together to remember, pay respects and support one another. Members can also pay their respects to nursing colleagues in our Online Book of Remembrance.