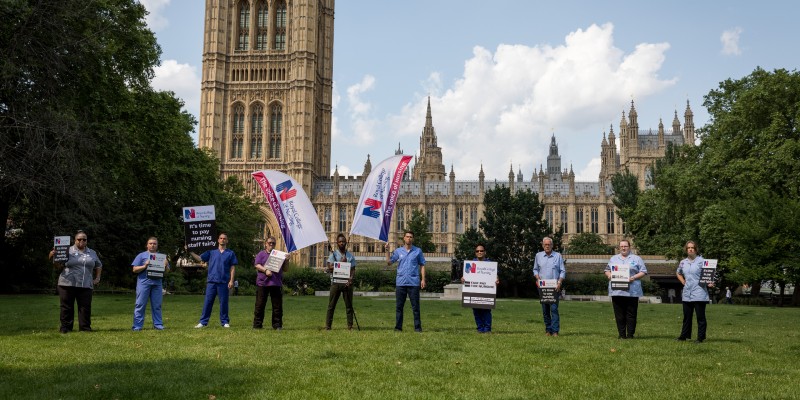 Today the government failed to announce an expected pay rise for NHS staff in England, which could also have ramifications on ongoing pay negotiations in the devolved nations.
RCN members assembled outside Westminster to express their frustration and disappointment at the continued setbacks they have faced to achieving fair pay.
The RCN is campaigning for 12.5% for NHS staff on Agenda for Change contracts, an award that applies equally to all bands in recognition of the highly skilled and safety critical role of nursing staff.
RCN General Secretary & Chief Executive Pat Cullen said: "This treatment of our NHS workers is shameful. Ministers are holding them in contempt, and we have no choice but to condemn this behaviour.
"With tens of thousands of nursing vacancies and thousands more considering their future in the profession, the government is sending the worst possible signal with this political gameplaying.
"Ministers need to stop the wrangling and come clean about the pay rise they believe NHS staff deserve. Nursing staff will only accept this pay award if it's significant, consolidated and fully funded with additional monies."
Chair of the RCN Trade Union Committee Graham Revie, who attended the demonstration today, said: "The government's reluctance to announce the long-awaited pay award for NHS nursing staff demonstrates a lack of moral compass.
"Furthermore, if nursing staff do not get a decent pay rise in a timely manner, then all of those claps that were so generously given by the Prime Minster and by the Chancellor outside Downing Street show their contempt for every nursing professional and for the people of this country as we experience the rising tide of COVID-19."
Read more about our Fair Pay For Nursing Campaign.
Photo by Jonathan Perugia