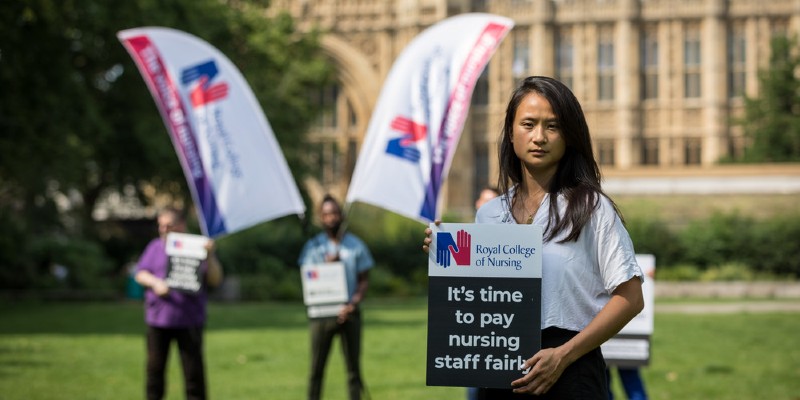 The RCN has given oral evidence to the NHS Pay Review Body (PRB), which is advising governments on Agenda for Change pay, terms and conditions for staff in England, Northern Ireland and Wales.
Our team, which had member representatives from all three countries, was led by elected member Carol Popplestone, Chair of RCN Council, and Colin Poolman, RCN executive lead for pay.
They made the case for a pay rise of 5% above inflation, which they insisted is needed to urgently address the staffing crisis. This year, patient safety and staffing are at the heart of our pay campaign. Only by paying the workforce fairly will enough nursing staff join and stay in the profession.
In our evidence session, we set out the case for a substantial restorative pay award for nursing staff that covers increases to the cost of living and begins to recover lost earnings caused by previous pay rises failing to keep pace with inflation.
Over the past 10 years, the value of Agenda for Change pay has fallen in real terms by between 9% and 14%. Once you factor in National Insurance increases and upcoming pension contribution rises, an experienced nurse will take home £400 less this year than they did in 2021.
Carol Popplestone said: "Our case is clear – our safety critical profession is facing unprecedented staffing challenges, rapidly rising living costs, unfair banding, and years of underpayment. The facts speak for themselves - there is an undeniable and urgent need to significantly improve nursing pay."
The NHS Pay Review Body (PRB) process is underway for England, Northern Ireland and Wales with direct pay negotiations in Scotland imminent.
Last month, the UK government suggested an NHS pay award of 2-3% for staff in England for 2022-23. The amount set aside for NHS pay in Westminster determines the central funding available in all parts of the UK.
While the PRB makes recommendations on NHS pay to governments, it is ultimately ministers who decide what pay rise staff are given. Nursing pay is a political choice.
Colin Poolman said: "If ministers don't listen to us, it will be patients who suffer when more and more nursing staff decide to leave the profession. When a nurse or health care support worker feels no alternative but to leave, it becomes ever more challenging to provide highly effective care and treatment.
"Ministers must provide a pay award that turns the tide on years of unfilled nursing jobs and experienced professionals struggling to make ends meet."