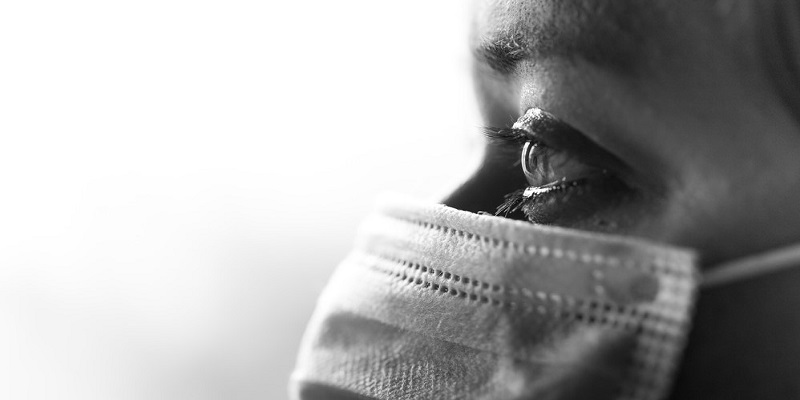 In a joint letter, signed by leading health organisations including the RCN, the British Medical Association (BMA) and academics such as Professor Trisha Greenhalgh, the experts demand "a change in approach implemented at speed" to protect health care staff and patients.
They insist the Prime Minister must respond to evidence on airborne transmission of COVID-19 by upgrading the UK's outdated infection prevention and control (IPC) guidance, which currently leaves staff exposed to infection.
Health and care workers are at three to four times greater risk of developing and dying from COVID-19 than the general public and deliver care at "huge personal risk".
The signatories call on the Prime Minister to:
assess and improve ventilation in all health care settings to reduce airborne spread
provide a precautionary higher level of respiratory protection for all health care professionals caring for people with known or suspected COVID-19, including in community settings and homes
update the UK's IPC guidance to reflect the latest evidence on airborne transmission of COVID-19
collect and publish consistent data on health care workers who have contracted COVID-19 from likely occupational exposure so we can better protect staff
publish scientific evidence on airborne transmission in health care settings, while supporting research to fill any knowledge gaps.
Since the pandemic began, more than 900 health and care workers in the UK have lost their lives to COVID-19, while many more are suffering from its long-term effects.
The letter to Boris Johnson states: "Measures to reduce airborne spread in high-risk health and care settings, which are mission-critical to the pandemic response, have thus far been inadequate. Current policies continue to emphasise the importance of fomite, droplet and direct spread but do not properly address airborne transmission.
"We believe that given the rapid emergence and evolution of new variants of concern, a change in approach must be implemented at speed to protect patients and staff consistently across the UK.
"This is a UK-wide issue, where coordinated, national action could make a decisive difference. We therefore look to the UK government, and you as Prime Minister, to take the lead to address the inconsistencies and gaps in guidance and in the protection of patients and health and care workers."
RCN Chief Executive & General Secretary Dame Donna Kinnair said: "Our members are telling us their concerns are not being listened to and they feel unprotected by current government guidelines that seem to take a 'one-size-fits-all, no evidence' approach.
"We know the possibility of airborne transmission can differ depending on where health care workers are caring for patients. Nurses who work in the community often don't know what kind of environment they will be working in until they get there and can do a risk assessment, which is why a precautionary approach is essential. Nurses frequently undertake close-contact procedures like inserting naso-gastric tubes with only a surgical mask advised as respiratory protection.
"Some nurses providing end of life care are working overnight in a patients' home, with no ventilation, in close proximity to family members where the risk of COVID-19 may be high given rates of infection in the community currently. The equipment they are provided with needs to match the risk they are facing and be available, if required, alongside fit testing and training on their use."