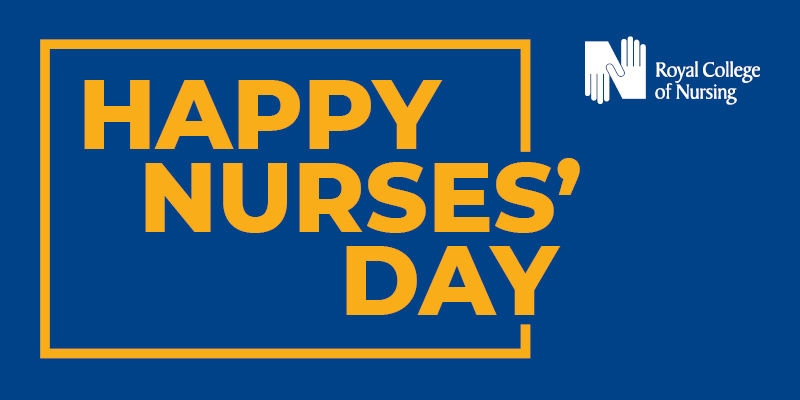 Today (12 May), to mark Nurses' Day 2021, we're showcasing how nursing staff have led patient care during the COVID-19 pandemic in a new video and series of member stories.

Nurses' Day is an annual celebration of the nursing profession, held on Florence Nightingale's birthday. Today, following more than a year of the COVID-19 pandemic, the crucial role of nursing staff is clearer than ever.

A new RCN poll reveals that the pandemic has changed the way the public view nursing staff. More than half of respondents said media coverage of nurses' work during the pandemic has helped them better understand nurses' skills. Meanwhile, 71% of people said nurses deserve more recognition.

The varied and valuable role of nursing staff is clear in our Nurses' Day 2021 video.


It's also clear in the stories of RCN members that we are sharing on our Nurses' Day webpage and on social media today. Our members have:
cared for patients in ICUs, care homes, specialist clinics, and even on the streets
found new ways to deliver care while protecting the public from COVID-19
learned new skills and demonstrated existing ones
faced the fear of catching the virus and the emotional toll of witnessing COVID-19 deaths
been at the forefront of the vaccine rollout, working on clinical trials and co-ordinating mass vaccination centres.
RCN President Professor Dame Anne Marie Rafferty, who will represent RCN members at today's Florence Nightingale Commemoration event at Westminster Abbey, said: "The public has been right behind nursing staff throughout the pandemic and rightly so. Nursing has been on display during the pandemic in ways the public has not seen before. Many of the very same nurses are now leading the rollout of the vaccination programme.
"I am so proud of what the profession has accomplished at this crucial time."
The inspirational work of nursing staff during the pandemic has also translated into an increase in those applying to start nursing studies later this year – more than 60,000 applications in total.
RCN Acting General Secretary and Chief Executive Pat Cullen said: "This poll suggests the amazing work that the public has seen nursing staff doing in the media during the pandemic has transformed that perception. This will give nurses a much-needed boost at a time when they are on their knees after a year of unprecedented challenges."
Nursing staff across the UK have been ordering badges and downloading posters to mark the day at work and at home. Show us how you're marking Nurses' Day – send us your pictures and messages with #NursesDay on Twitter, Facebook and Instagram.