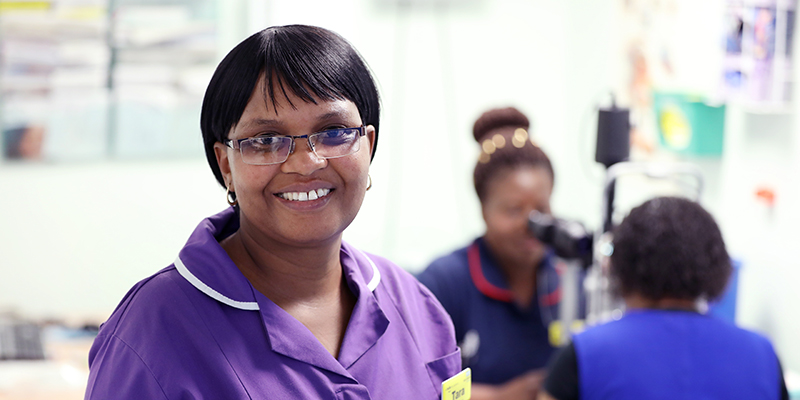 RCN member Tara Matare has won the coveted title of RCN Nurse of the Year 2019. She scooped the leadership category at the RCNi Nurse Awards before being crowned the overall winner.
After specialising in ophthalmology almost by accident, Tara has gone on to develop her unit at Whipps Cross Hospital in London into a one-stop shop for eye patients, providing gold standard care by a highly skilled nursing workforce.
It hasn't been an easy road though. Over a 14-year mission to overhaul the unit, there have been a steady stream of challenges, including fighting ophthalmology's corner to ensure it wasn't overlooked in favour of higher-profile inpatient services and tackling an ingrained culture of bullying.
But Tara's greatest strength is her refusal to give up, says consultant eye surgeon Sudeshna Patra, who nominated her for the RCNi Nurse Awards.
Thanks to her ongoing passion, dedication and dogged determination, Tara has helped to create a hugely successful modern eye treatment centre where a supportive culture gives nursing staff the opportunity to develop and lead.
Amid all her achievements, this legacy is what she's most proud of. "I have been able to share nursing knowledge with my staff and give them the skills they need to sustain the service," she says.
For Barts Health NHS Trust Chief Nurse Caroline Alexander, Tara epitomises everything she could hope for in a nurse leader. "Tara is a real champion for improvements at the trust," she says. "Her positivity, drive, creativity and unwavering dedication are unmatched and have led to real changes at our eye treatment centre at Whipps Cross. She really is one in a million."