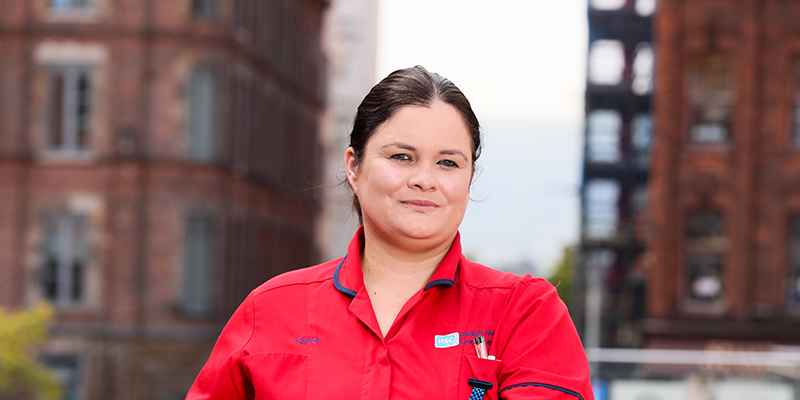 The RCN Nursing Awards winners were announced last night (12 October) during a live-streamed ceremony hosted by TV presenter Kate Garraway and RCN General Secretary & Chief Executive Pat Cullen.
The awards celebrate the successes of nursing staff across 15 categories, with the overall winner being crowned RCN Nurse of the Year.
This year, that award went to Nicola Bailey (pictured above), a sexual health lead nurse in the Belfast Health and Social Care Trust who revolutionised women's health care in Northern Ireland at the start of the pandemic. Nicola set up a service enabling women to access early medical abortions within days after lockdown limited women's ability to travel to England.
Nicola is "delighted and honoured" to win the award. She said: "I don't feel I've done anything outside my role as a nurse – to put my patients at the heart of everything I do, use my Code as my guide and provide health care to women that need it, whatever it may be."
Other category winners include Rohit Sagoo, founder of British Sikh Nurses and a children's nurse lecturer, who won the Leadership category. He has worked hard to raise awareness of organ donation and COVID-19 public information, particularly about vaccination, in the Sikh community.
Rebecca Crossley from James Paget University Hospital won the Learning Disability Nursing category. Her COVID-19 vaccine clinic for people with learning disabilities and autism or severe and enduring mental health conditions has a 99.9% success rate.
This year's Patient's Choice category award winner is nurse practitioner Paul Murray, who worked at Causeway Hospital in Coleraine, Northern Ireland, and died after a cardiac arrest in February. Paul received a record number of nominations, and the testimonies from people he supported show the huge effect he had on those he cared for as well as the wider community.
Alluding to the high quality of all the award winners this year, Pat said the awards had shown nurses "are so much more than their professional title".
"You are skilled, educated people with years of experience," she said. "You diagnose problems and you engineer solutions to support the people you care for.
"You spot opportunities to improve people's lives and you apply your clinical knowledge to make sure patients receive the very highest level of care and treatment.
"You advocate for those who cannot find their voice, for whatever reason. You build a protective barrier around those often at their most vulnerable. You do this by understanding their needs, considering what support they require, and putting plans in place to help them."