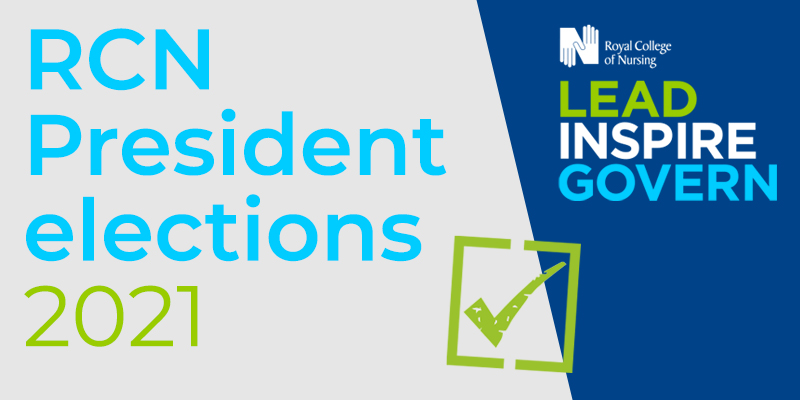 Members have from 3 March to Monday 29 March to put themselves forward for election to become the next RCN President. The successful candidate will have a prominent leadership role in the organisation and across the UK and international nursing and health community. The President also serves as a full member of RCN Council.
The election to this role was delayed after two candidates were disqualified in the last election. The subsequent General Meeting agreed an extended term of office for the current President, which is due to expire on 30 June 2021.
To ensure the smooth running of this presidential election, many of the recommended changes following the
independent report by Simon Cheetham QC
have been taken forward. These include amending campaign guidelines to allow greater use of social media platforms and delegating the responsibilities of the returning officer to an independent scrutineer.
As with all other elections, candidates for the President role must have their nomination supported by two RCN members and have been an RCN member themselves for at least five consecutive years immediately prior to the closing date for nominations.
Online hustings will take place on Thursday 13 May, the same day that voting opens. Members have until 14 June to vote. The successful candidate will be announced on 15 June and take up their post on 1 July.
RCN Chair of Council Dave Dawes said: "RCN Presidents have embodied the ambition, vision and values of members for more than a century, influencing nursing and improving patient care. As the College continues to push for twin aims of safe staffing and improved pay – as well as supporting members working through the pandemic – this role is more important than ever."
The Governance Support Committee has agreed that candidates should not undertake speaking engagements at RCN Group events during the election period and that RCN resources will be defined as those which are linked to recognised RCN entities such as a branch or a forum.
The committee is now working on the process for redrafting the overarching elections policy.