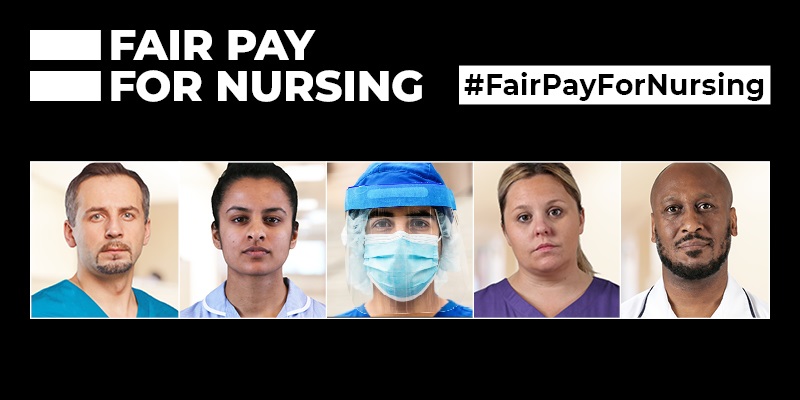 RCN members in Scotland have today (23 June) notified the Scottish government and NHS Scotland employers that they're in a trade dispute over pay.

It follows the Scottish government's decision to implement a single-year NHS pay deal for 2021-22 for Agenda for Change staff without further discussing RCN members' rejection of the deal.

In the formal notification letter, RCN Scotland stresses the serious concerns members have about the recruitment and retention of nursing staff and the impact this has on patient care.

Nursing pay has not kept pace with the cost of living and the Scottish government's NHS pay deal falls far short of our calls for a 12.5% pay increase for all nursing staff on Agenda for Change contracts that applies equally to all bands.
"In these circumstances, the Scottish government has left us with no choice but to notify them of this dispute," said RCN Scotland Board Chair Julie Lamberth.

"They have relied on the good will of nursing staff for too long. For years, we have been responding to the challenge of delivering safe and effective patient care, in the face of increasing demands, staff shortages and low pay. These issues have been exacerbated by the pandemic.

"Every patient needs and deserves the best quality of care possible, but nursing staff are exhausted and worrying numbers are considering leaving the profession.
"Today's action is a formal expression of our members' frustration and concern for patient safety. We are sending a clear message that the time to value nursing as a safety critical profession is now."

We're calling on the Scottish government to engage in further discussions and we await their response. The lodging of a trade dispute does not commit the RCN to any future action and RCN members will decide what happens next if no acceptable outcome is achieved.

Chair of the RCN Trade Union Committee Graham Revie said: "This is an important signal for ministers in Westminster and elsewhere as to why this year's NHS pay offer must be a significant pay rise. Our members will accept no less.

"Ministers across the UK must do much more to recognise the safety critical role of nursing staff through fair pay, safe staffing and a focus on staff wellbeing.

"Without fair pay, it is impossible to retain and recruit nursing staff with the right skills, experience and knowledge in the right place, at the right time. Compromising on this puts our health and care services at serious risk."

Members working for the NHS elsewhere in the UK are awaiting news of the Pay Review Body's recommendation on a pay increase for Agenda for Change staff. Ministers will then decide what the pay award will be. This will not be put to a vote of NHS staff, but we've committed to consulting our members across the UK on whether they feel the award is adequate and what further action they wish to take.

When the UK government suggested the NHS pay rise would be 1% in March, RCN Council swiftly set up a £35m industrial action strike fund. Although industrial action is always a last resort, the action members took in Northern Ireland in late 2019 and early 2020 proved effective in securing commitments to safe staffing and fair pay.