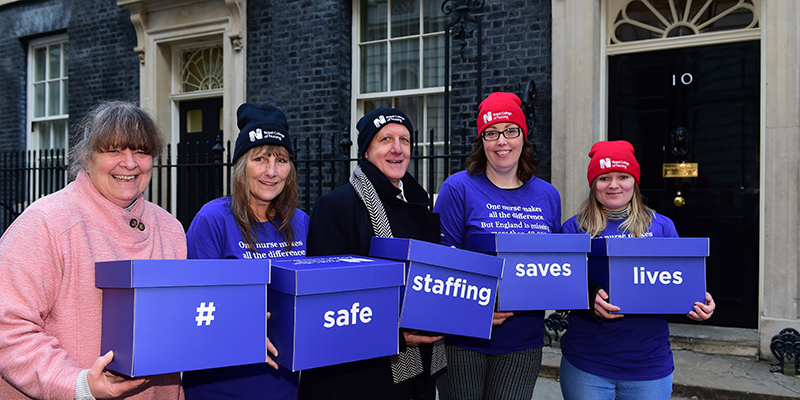 The petitions are part of the RCN's safe staffing campaign for legislation to guarantee nurse staffing levels in England.
It comes as the NHS in England has record nurse vacancies, which recently topped 44,000 for the first time. It also follows a general election pledge for 50,000 more nurses in the next five years.
Nursing associate Kevin Morley went to Downing Street to hand in the petitions. He said: "Now is the time to bring all nursing staff together to hold the government to account. The number of petition signatures shows there is a need for change. We must have safe staffing in place to look after our patients in hospitals, the community and nursing homes."
Lesley Cain, who has received treatment for cancer and who signed the petition, joined RCN members in handing it in to the prime minister.
She said: "As somebody who has needed the help of the NHS, I have nothing but praise for the care I received. The nurses made sure I was comfortable and were there for me every step of the way. It was clear though that they were under the most incredible pressure. I feel it is time for the government to demonstrate real action before it is too late. We must start to care for those who care for us."
RCN member Danielle Tiplady added: "I'm witnessing on a day-to-day basis the impact nursing shortages are having. Urgent action is needed."
Mike Adams, RCN England Director, said: "The voices of nurses and the public could not be clearer - resolving the nursing workforce shortage in England must be the highest priority for the government.
"We need there to be a legal responsibility to ensure there are enough nurses now and for the future to provide safe and effective care to all patients.
"We urge the government to listen to the voices of those we have taken to the steps of Downing Street and take urgent and decisive action to resolve the nursing workforce crisis in England."