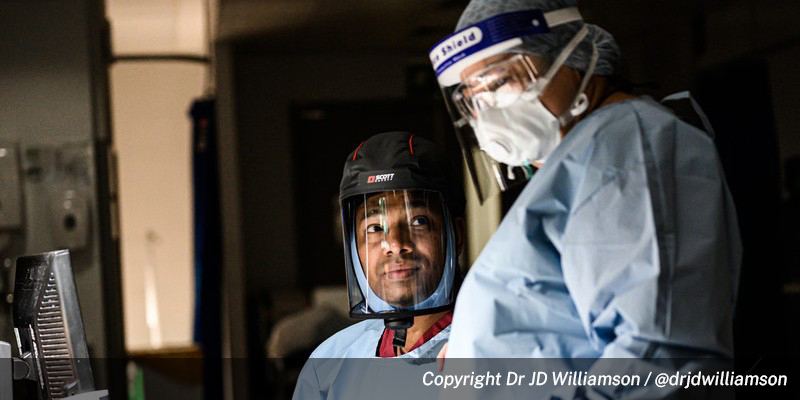 Image copyright Dr JD Williamson
The best organisational interventions after a traumatic event involve peers and managers improving support and reducing pressure, attendees of our online education programme were told today.
Delivering the annual John Goodlad Memorial Lecture, Professor Neil Greenberg said support from within the team is needed, rather than immediate psychological debriefing, so there's no interference with a normal reaction to a traumatic event.
Professor Greenberg is a consultant occupational and forensic psychiatrist and served in the Armed Forces for more than 23 years. Since 1997 he's been at the forefront of developing peer-led traumatic stress support packages.
He reflected on his experience of running the mental health strategy for a Nightingale Hospital. There he found that one hour's remote active listening skills training for supervisors led to a substantial improvement in their confidence to recognise, speak with and support distressed colleagues.
Professor Greenberg told attendees about a peer-delivered risk assessment and ongoing support system - Trauma Risk Management (TRiM). Designed specifically to help in the management of traumatic events, he explained that it's effective because people are often initially more comfortable talking to peers.
Speaking to delegates at the RCN's online event he said: "Most people exposed to traumatic events will cope with them. However, it's likely that many will become distressed and some will become unwell." He added that these individuals are unlikely to seek help but emphasised there are evidence-based ways to support these staff. He stressed the importance of signposting to professional help for those who need it.
"Within organisations, resilience doesn't lie in individuals, it lies between individuals. So the more we can do to support the bonds between individuals, the better that people's mental health will be," he said.
Attendees were told that the two most predictive risk factors as to whether people will develop post-traumatic stress disorder are how much social support they get after the traumatic event and how much life stress they're put through. Professor Greenberg said that while you cannot see this in advance, this is something organisations can act on.