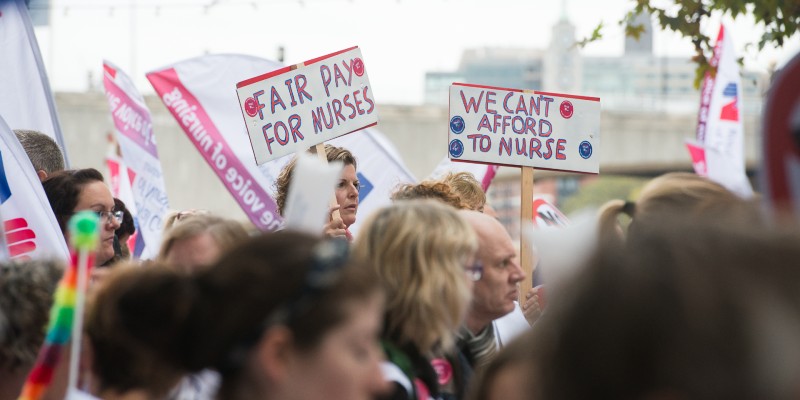 RCN members working for NHS Scotland are to be asked what industrial action they would be willing to take in support of their ongoing trade dispute with the Scottish government and NHS employers over pay.
The trade dispute was lodged in June following the Scottish government's decision to implement a single-year NHS pay deal for 2021-22 for Agenda for Change staff, without further discussing RCN members' overwhelming rejection of the pay award.
The indicative ballot will open on 12 October and close on 8 November.
Eligible members will receive information on the different forms of industrial action.
The indicative ballot will be run by Civica, the independent scrutineer that organised the consultative ballot earlier this year. Eligible members will receive an email from Civica with a personal link to the online voting site on Tuesday 12 October. Weekly reminder emails will also be sent.
The result of the indicative ballot will not formally authorise industrial action. It will be used to inform the next steps RCN members might take.
Julie Lamberth, Chair of the RCN Scotland Board, said: "Industrial action is always a last resort but the current staffing challenges are causing unacceptable risks to patients and staff. The Scottish government has the opportunity to do the right thing by nursing.
"I would urge all eligible RCN members to seek out the available information on what taking industrial action means and what the implications of doing so might be. We need each member to make up their own mind and have their say in the ballot."
Colin Poolman, RCN Scotland Director, added: "This is your chance to speak up – for your patients and your colleagues. Many of you rejected the pay offer and you know the link between fair pay and safe staffing. This is your opportunity to tell us what action you are prepared to take. To let the Scottish government know that the time to protect patient safety and value the safety critical role of nursing is now."
In England and Wales, the vast majority of members working for the NHS who voted in our recent consultation said the 3% pay deal was unacceptable. Elected representatives on the RCN's Trade Union Committee are now carefully considering the results to decide on next steps.
In Northern Ireland, the Minister for Health has said he wants to award NHS staff a 3% pay rise but members there will have to wait until later in October to see if the additional funding requested from the Northern Ireland Executive will be made available.
All RCN members should check their membership details with the RCN to make sure their contact details are up to date. This includes workplace, employer and preferred email address and phone number. Visit MyRCN to update your details now.
Visit our Fair Pay for Nursing campaign webpages for the latest information on the indicative ballot and read our Industrial Action Handbook to make an informed choice when you vote.