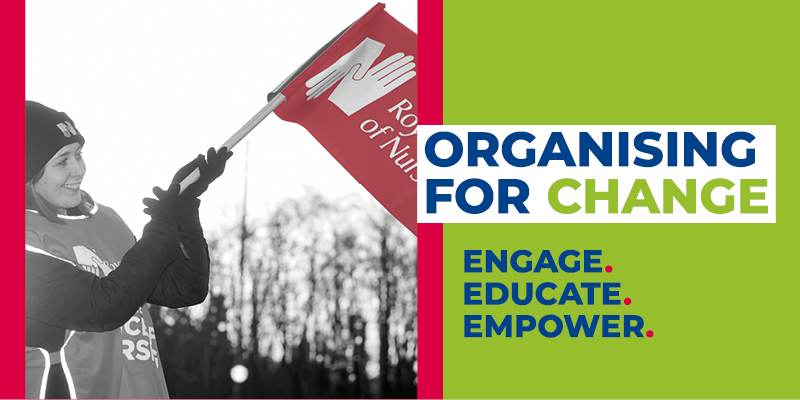 RCN members are being encouraged to sign up for expert training from a global leader in workplace organising. The announcement comes after the government proposed a 1% pay award for NHS staff in England at the beginning of March.

Nursing staff will study alongside campaigners from across the world in seminars coordinated by leading organiser, campaign strategist and author Jane McAlevey. A "taster" session for interested members took place on 13 April.

Members are invited to attend a six-week training programme, with further training being developed in-house, building on our pay campaign. The ambition is to train 25,000 members as organisers by the end of 2022.

Under the slogan "Engage, educate, empower", the new model will see members draw on the collective power of their own experiences to fight for what they know is good for nursing and good for patients. The approach will strengthen members' ability to campaign for improved professional standards, staffing levels, employment rights and workplace safety. This will support our already active representative members with greater visibility for the RCN and its campaigns in members' workplaces.

RCN Chief Executive & General Secretary Dame Donna Kinnair said: "Our members are determined to be ready for all eventualities this summer. If politicians choose to ignore the need for a pay rise for NHS staff, this training will give us greater skills to organise, mobilise and use the power we have.

"Each one of our members knows what needs to improve in their workplace and their community and that's sufficient staff to provide safe and effective care delivered by awarding a significant and substantive pay rise. When properly supported to come together, our members will fight for what patients need."

Dave Dawes, Chair of RCN Council, said: "Council has already confirmed a £35 million industrial action fund, should nursing staff vote to take action. This training is the next step to getting ballot-ready.

"The government must listen to the anger from nurses, the anger from the public and the anger of MPs. We took industrial action for the first time in Northern Ireland in December 2019 and secured a pay rise and commitments to address staffing levels. So now we are saying: don't get angry – get organised."
Find out more and register your interest in our organising courses by 3 May.