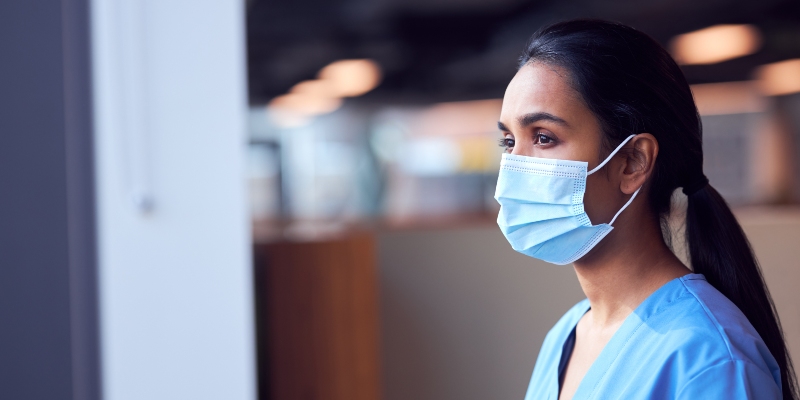 The results of the latest NHS staff survey for England show patients are at risk of receiving poor care due to persistent staff shortages.
Only 21% of registered nurses and midwives said there were enough staff for them to do their jobs properly. This is down from 33% on the previous year.
To compensate for short staffing, 67% of registered nurses and midwives are working unpaid hours to provide patients with the care they need.
The annual survey, carried out between September and November, invites everyone who works for the NHS in England to take part. It gives a snapshot in time of how staff are experiencing their working lives.
The survey results show 53% of registered nurses and midwives felt unwell due to work-related stress and 41% felt burnt out because of work. Almost 59% said they continued to work despite feeling unwell.
RCN England Director Patricia Marquis said: "Nursing staff have sent a clear message they're exhausted and that staff shortages are undermining their efforts to give safe and effective care. This is a stark reminder of the impact of tens of thousands of nursing vacancies.
"Today, MPs can support a new law in the Commons, which would require ministers to publish an assessment of how many nursing staff are needed to provide safe patient care. The government wants MPs to vote against these plans – we urge them to defy ministers and seize this vital opportunity."
The Health and Care Bill proposes reforms to the health and care system in England and is in its final stages of passing through parliament.
Today, MPs will vote on whether the UK government should have a legal responsibility to assess and publish the number of health and care staff needed to provide safe and effective care in England, based on patient needs, not finances.
This vital change in the law will help address the nursing workforce crisis, but the government has said it won't support it. We've been urging members to email their MP insisting they back the move towards safe staffing levels and skill mix.
Since launching our "email your MP" tool, 10,000 emails have been sent to MPs. We'll know later whether elected politicians have listened.
Meanwhile, we continue to campaign for a pay rise for NHS staff of 5% above inflation. The NHS staff survey showed fewer nursing staff are satisfied with their level of pay than they were a year ago, with 28% of registered nurses and midwives and 17% of nursing and health care assistants being content. These figures are down from 33% and 22% respectively from the previous year.