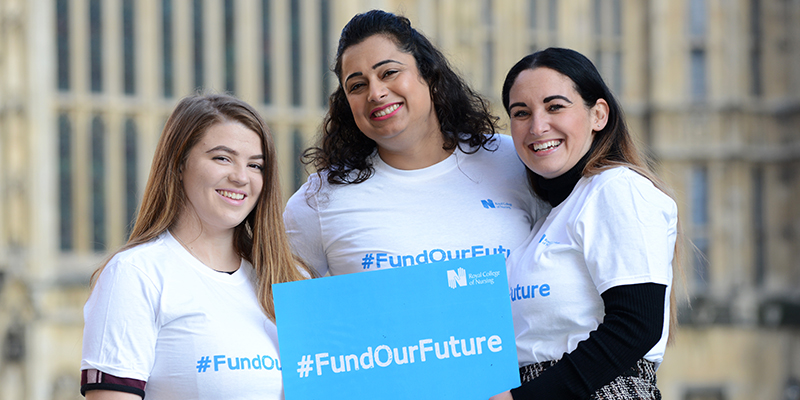 The government has confirmed that from September 2020, all nursing students in England will receive at least £5,000 a year to help with living costs. The grant will not need to be repaid.
For students entering specialities that struggle to recruit, people living in parts of the country which have seen a decrease in those accepted onto nursing degree courses, or to help students cover the costs of childcare, there may be a supplement of up to £3,000.
The announcement has been made ahead of the UCAS deadline for university applications on 15 January 2020, something the RCN specifically requested in the run-up to the general election.
RCN student members have been campaigning for more funding after the bursary, which covered university tuition fees and provided means-tested maintenance support, was scrapped in 2016. Since then applications to study nursing have dropped by 25% in England.
Details released so far:
From September 2020, degree-level students studying nursing, midwifery and some of the allied health subjects will receive a non-repayable and non-means tested grant of £5,000 a year to help with living costs.
Additional support (up to £3,000 a year) will be available for some students in regions or specialisms struggling to recruit, or to help students cover childcare costs.
The grant will be in addition to existing student support.
Funding will be offered to existing students as well as new entrants.
The RCN Policy team is seeking further detail around the following issues:
Whether any maintenance loan debt incurred by students who studied between 17/18 and 19/20 will be written off.
Whether this is for both undergraduate and postgraduate students.
How this applies to those studying part-time.
How this effects the Spring 2020 degree intake.
Whether there will be any effect on universal credit payments.
What specialties and regions the additional payments will apply to, and when these will be announced.
How the amount of funding per student has been calculated.
How the funding will be paid.
How members find out about if this announcement affects any other of their personal circumstances.
This web page will be updated as further details become available.
Responding to the Government announcement of funding for student nurses, Dame Donna Kinnair, RCN Chief Executive & General Secretary, said:
"With tens of thousands of vacant nurse jobs in England, serious measures are needed, and this grant is a first victory for the campaign that our student nurses are running. This announcement will hopefully encourage more people to apply to a nursing degree by the mid-January deadline. However, the new maintenance grants must be enough to cover students' actual living costs.
"In the run up to the Budget, we continue to call for our students to be given tuition fee support too. Any barriers for people wanting to enter nursing must be removed.
"The nurses at work today need to feel valued but also confident that the staffing shortages are being addressed with adequate investment. The RCN is calling for at least £1 billion extra per year to be invested in nurse higher education as part of ensuring patients and the public can access safe and effective health and care services."