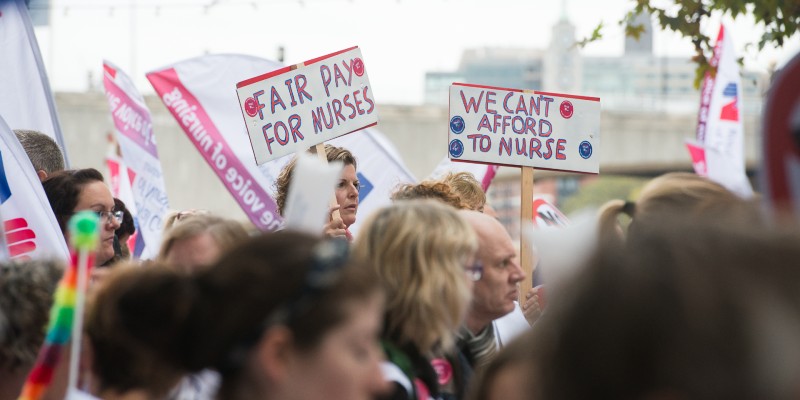 Our fight for fair pay
is picking up pace as
a series of member events
takes place this summer ahead of our biggest ever member consultation on NHS pay.
The UK government finally announced the
NHS pay award for England
last week after months of delays. But with inflation, the 3% award is a real-terms pay cut and leaves experienced nursing staff £200 a year worse off.
The government has since admitted that the money would be found from existing budgets, further upsetting the nursing profession as this funding will already be committed for patient care.
Today we've launched an
interactive map of events
for nursing staff to protest against the 3% NHS pay award announced for England and Wales and discuss what action they want to take in response.
Events include a demo in Hove, a candlelit vigil in Norfolk, a virtual rally and a campaign van travelling through Wales. The summer of action will culminate with a protest in Liverpool at the
RCN's annual national Congress
in September.
The 'summer of action' is launched as a new poll shows a majority (51%) of the public think the 3% pay rise is too little and 62% say there are too few nurses to provide safe care.
RCN General Secretary and Chief Executive Pat Cullen said: "Today we've launched a 'summer of action' – a calendar of events across the UK hosted by members to ensure that our colleagues, our patients, the public and politicians know that our campaign won't stop until nursing is respected and protected.
"We know this award will not be enough to prevent an exodus of exhausted NHS nursing staff and ministers must now be honest about the impact this would have on patient care.
"The government is failing to give the NHS the money it truly needs. This current game of smoke and mirrors is dangerous for patients and nursing staff who care for them.
"If ministers ignore the voice of nursing, they ignore the voice of patients – and that is something we, as nurses, will never allow."
Graham Revie, Chair of the RCN Trade Union Committee, said: "Our campaign continues and I need you – all of you – to get involved. This is your opportunity to stand up for your profession and for patients by using your voice this summer.
"Come along to these events and encourage your colleagues, friends and families to join us, because we need them to campaign too. We will not stop until nursing is respected, protected and, most of all, valued."
Ministers in Northern Ireland are yet to decide what they'll award NHS staff, but events there will explore how members want to campaign for fair pay.
In Scotland, members are in a trade dispute
with the Scottish government and NHS Scotland employers after they rejected an offer which gave them a 4% pay increase on average.
The RCN has been campaigning
for a fully-funded 12.5% pay increase for all nursing staff covered by Agenda for Change terms as part of a one-year deal that applies equally to all bands.
To have your say in the consultation, it's important we have accurate details for who your employer is. Check these now at
MyRCN
.