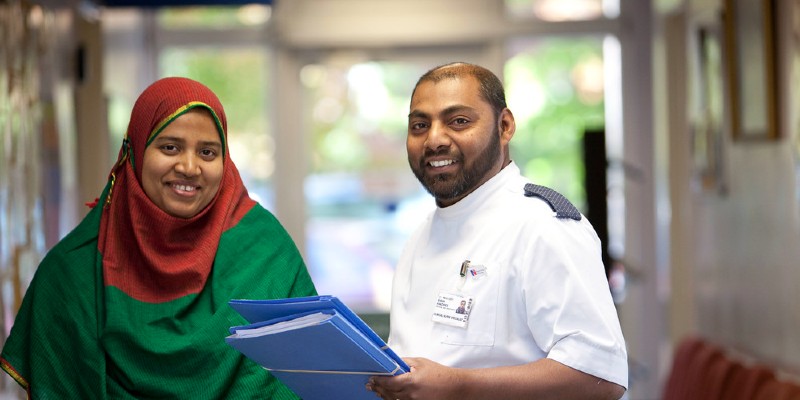 Today the Department of Health and Social Care has published evidence of "institutional inadequacy" in the way NHS leaders are trained, developed and valued.
While there were examples of strong, inspirational leadership, the report also found evidence of bullying and blame cultures, as well as staff not feeling comfortable to speak up.
Raising concerns is vital to creating inclusive leadership in health and care services.
Our own survey found that many nursing staff, especially those from minority ethnic backgrounds, felt unable to speak up.
It also found that racism is endemic in health and care, with White nurses twice as likely to get promoted as Black and Asian staff.
The review, led by General Sir Gordon Messenger, had input from more than a thousand frontline staff, managers and leaders across health and social care.
These perspectives went on to inform recommendations to implement the right culture, training and incentives. There was also a call for clear leadership and management standards.
The RCN contributed to the review, our members said clearly this week that there must be nursing leadership roles in all levels of health and care system decision making, and in UK government.
We noted that alongside investing in leadership, ministers must invest in the nursing staff essential to delivering safe and effective care.
We have produced our Nursing Workforce Standards, which suggest a roadmap for designing a workforce in both the NHS and the wider health and social care sector that can offer patients the quality of care they deserve.
Responding to the report, RCN England Director Patricia Marquis, said: "This report fails to recognise the huge part that nursing leadership plays in running health and care.
"Nurses lead, innovate and deliver the largest proportion of care and their leadership provides critical expertise, advice and challenge at the highest levels of health and care organisations.
"There must be nursing leadership roles in all levels of the health and care system decision making, including in government.
"A key part of inclusive leadership and good management in the NHS is the ability to raise concerns – our report this week showed many nursing staff, especially Black and Asian nurses, feel unable to raise concerns.
"Our Nursing Workforce Standards, the country's first-ever blueprint for tackling the nursing staff shortages across the UK, can help nurses at all levels speak out."