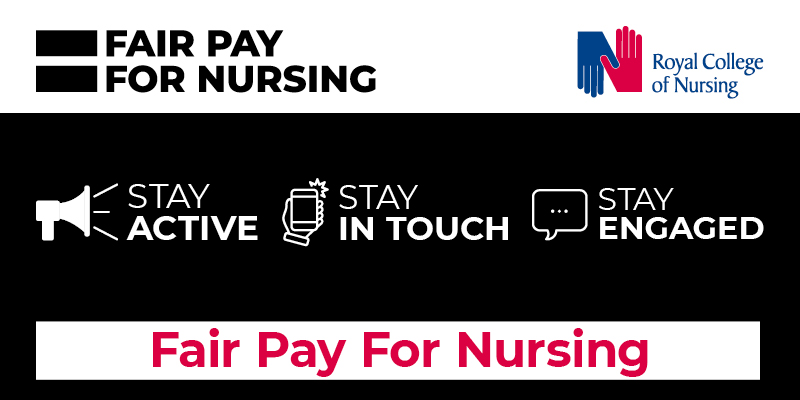 We're asking members to do three simple things as part of our campaign against the government's proposed 1% pay rise for NHS staff. To help us, you can:
stay active: download campaign posters and use our materials to talk to colleagues about the importance of #FairPayForNursing in your workplace
stay engaged: sign up to be the first to hear updates on our campaigns and take easy online actions to support #FairPayForNursing
stay in touch: make sure your details are up to date on MyRCN, especially your employer and workplace, so we can contact you in future.
More ways to get involved in our campaign will be announced shortly.
Last week, in written evidence to the NHS Pay Review Body (PRB), the government said it planned to award a 1% pay rise for NHS staff this year.

We condemned the proposal and rapidly set up a £35 million strike fund to support workers if industrial action is ultimately taken. In the days following, we have further criticised the Prime Minister for being dangerously out of touch with nursing staff and the public who support them.

This Thursday 11 March at 8pm, the RCN will also be supporting the slow hand clap that has been organised by the 14 NHS staff side health unions to protest the government's proposed 1% pay increase. A second slow clap has been scheduled in three weeks' time on 1 April – the day that staff were due their next wage increase.

RCN Chief Executive & General Secretary Dame Donna Kinnair said: "The Prime Minister says he is hearing NHS staff but he clearly is not listening. He was more than happy to clap for hardworking NHS staff when the photographers were ready.

"Now is the time to back us. We want the same thing: more nurses which means better, safer patient care. But the only way we'll get there is through fair pay so more people are attracted to our profession, and more experienced workers will stay in the jobs they love."

The RCN's Fair Pay For Nursing campaign is calling for a fully funded 12.5% pay increase for all nursing staff covered by Agenda for Change terms, as part of a one-year deal that applies equally to all bands.

In January, we submitted evidence to the NHS Pay Review Body, which makes recommendations to ministers on pay for NHS staff, explaining why nursing staff deserve this rise, its affordability, and stressing the link between fair pay, recruitment, retention, and safe staffing.
You can now watch our Fair Pay For Nursing member update that took place on Friday 5 March.