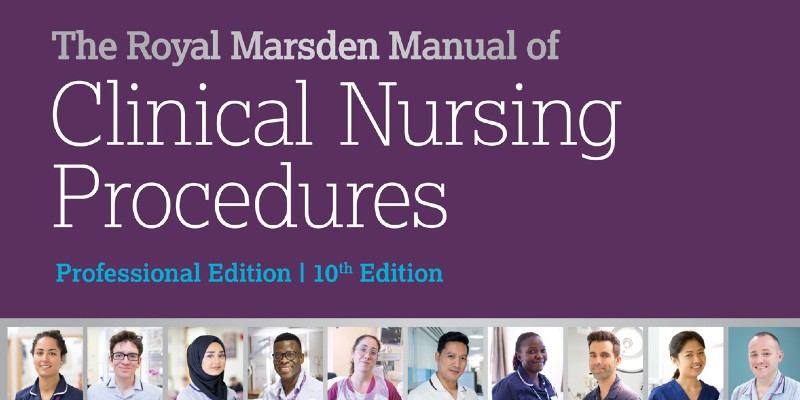 The Royal Marsden Manual of Clinical and Cancer Nursing Procedures will be accessible in digital format until 30 April 2021.
The user-friendly guide can be downloaded and read on devices such as smartphones and tablets, and includes additional video features.
The resource provides up-to-date information on nursing skills and procedures, aiming to be a go‐to clinical resource by pooling useful information in one place.
This online version combines three books in one: The Royal Marsden Manual of Clinical Nursing Procedures, the professional and student edition, and The Royal Marsden Manual of Cancer Nursing.
The 10th edition includes content on mental capacity and safeguarding, and the legal and professional issues section has been replaced with clinical governance.
A brand-new chapter on self‐care and wellbeing has also been added, in line with Nursing and Midwifery Council guidance for nurses to manage their own health and wellbeing.
In 2019 the manual was the best-selling nursing text in the UK.
RCN members have long been involved in the writing of the manual since it was first published in 1984, including Robert Tiffany, who was an RCN Fellow.
Sara Lister, joint editor of the manual and Head of Pastoral Care, Psychological Support, and PALS at The Royal Marsden Hospital NHS Foundation Trust, wrote in the preface: "Over the 30 years that the manual has been in use, there have been many expert nurses (and more recently their professional colleagues from other professions) who have given their time to write so that knowledge could be made available to improve care of patients.
"I am proud that this resource has been invaluable to nurses in the UK and abroad in a variety of clinical settings, as Robert Tiffany hoped it would be; I am proud that nursing has not just talked about ritualized practice but has taken steps to become evidence based, with a critical approach to patient care; I am proud that nurses have read and used the manual, and most importantly have given feedback when what they read wasn't clear or wasn't right.
"Work begins on the next edition as soon as this one goes to print, so please keep telling us what we need to do differently. This is your manual."
Members can access the guide via the online RCN Library with hardcopies also available.*
*Image provided by Wiley, publishers of the Royal Marsden Manual of Clinical and Cancer Nursing Procedures