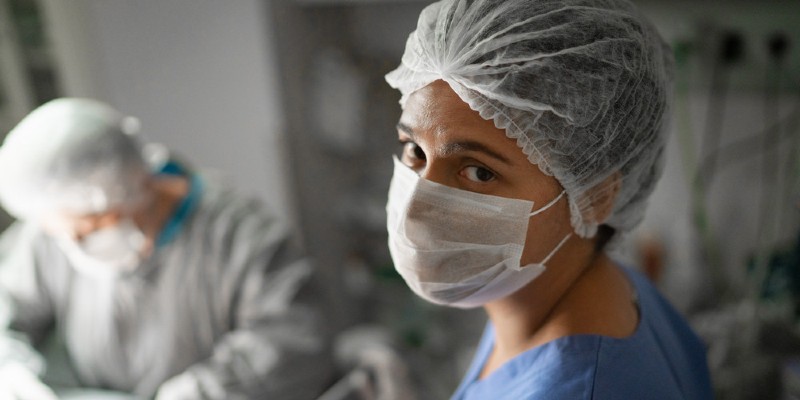 The RCN is demanding that ministers urgently address the nursing workforce crisis as members look set to work in increasingly challenging conditions over the next few months.
Soaring COVID-19 cases, an ever-growing backlog of people requiring care and seasonal pressures mean the profession faces the prospect of another difficult winter.
With tens of thousands of nursing vacancies in the NHS alone, and no government-led workforce plan in place to recruit and retain staff, patient safety may be affected and care left undone.
RCN Chair of Council Carol Popplestone said: "This World Patient Safety Day should be a wake-up call for ministers – nursing staff deserve to be able to go to work with enough staff on shift to care properly and safely for their patients.
"That is what patients and their families deserve too. We will continue to campaign for safe nurse staffing and fair pay on behalf of our members until the UK government recognise the clinical expertise and knowledge of nursing staff and make the right political choice by properly investing in the profession."
The RCN insists changes must be made to the Health and Care Bill, currently passing through parliament, to make the Health Secretary accountable for having enough nursing staff to deliver safe care.
RCN President Dr Denise Chaffer said: "Our members continue to provide the best care they can for patients across the health and care system, under continuing difficult conditions.
"This World Patient Safety Day, I'd like to extend my thanks to all nursing staff in the UK and across the globe, for their continued commitment to provide the safety-critical care their patients and families need.
"I hope that nursing staff take time today to recognise their incredible contribution to the health and wellbeing of our communities, despite continued nursing staff shortages. Investing in nursing staff and ensuring they are safe and supported is essential in improving the delivery of safe and high-quality health care for all."
Also to mark World Patient Safety Day, we've released a new video featuring Game of Thrones star and RCN ambassador Emilia Clarke, who is supporting our call for action.
In her message to nursing staff, she said: "This day is a reminder of all you do to keep us safe and well, but I know you are still campaigning to get your work recognised by others, including with fairer pay levels and even safer workplaces. You have my full support, and I will always help to fight your corner.
"I have experienced first-hand the skill, the care and the compassion of your profession and it is with that in mind that I passionately support more investment in nursing – you are the best of health care. Thank you for everything you continue to do."
Supporting members to deliver safe and effective care is one of our key priorities. The RCN's Nursing Workforce Standards, published earlier this year, help all nursing staff understand what measures must be in place to support them to deliver safe and effective care – and challenge employers when they feel the standards are not being met.