What attracted you to a career in nursing?
As a teenager I sustained a head injury and thought that the nurses who looked after me, both in the acute setting and then the rehab setting, were wonderful. They did a really good job. At that point I didn't consider becoming a nurse myself but after university I was teaching in Sydney, Australia, and ended up living with a group of nurses. I was really impressed with what they were doing so when I returned to the UK in 1991, I applied to be a nurse! I was interviewed at Thomas Guy's and Lewisham School of Nursing (now Florence Nightingale Faculty of Nursing at King's College London) and must have impressed them because I was immediately offered a place on the course, whist still at the interview!
Can you tell us about your current role?
I'm currently on full-time trade union release and have been for a number of years. So now I essentially nurse the nurses! I am based at Wrexham Maelor Hospital, but my union work takes me right across the health board. I'm also secretary of my staffside, as well as chair of our LGBT+ staff network, so have fostered good open and honest working relationships with senior and executive health board management. I advocate for staff at every opportunity, from operational site management to the board.
How does nursing today compare to when you first started?
There is a stark difference. These days when you go onto a ward to find a member of staff, they're generally buried under a mountain of paperwork. It seems to me that there's a lot less interaction between registered nurses and their patients now and there are more healthcare assistants. The wards seem a lot busier than they were when I started nursing and the caseload of patients is different; there's a lot more care of the elderly on wards nowadays.
Tell us about your roles as RCN Health & Safety Rep and Steward.
I became involved in the RCN following a bullying situation at work. I ended up giving up my clinical post so that I could concentrate on my work with the RCN. I've found being a rep for the RCN is even more rewarding than my clinical role was. I've developed a wide variety of skills – I'm much more able to communicate with people now, my listening skills are more acute, and I'm more analytical.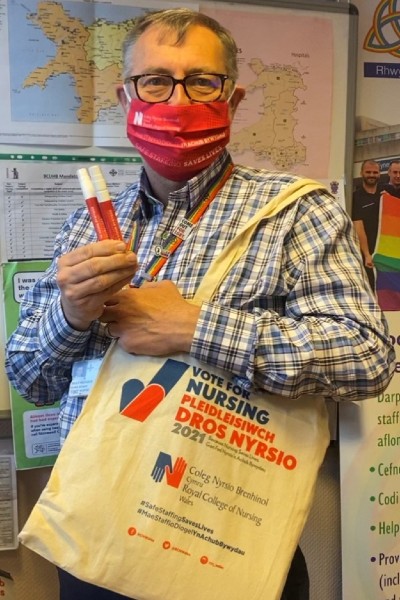 You also speak out on behalf of racism, ageism, sexism and the LGBT+ community – why is it important to you to speak out and what inspired your activism?
My personal experiences have inspired my activism. After moving back to North Wales from London in 2002 I was subject to casual homophobia, which forced me to go back in the closet, leading to my performance at work suffering, which in turn led to my being bullied at work. I was moved around at work and thankfully ended up in a very supportive department and was able to come out again.
In terms of equality and diversity, there was generally not as much tolerance in North Wales as there was in London. Once I'd become "me" again, I felt it was important to do something about it. Through my RCN work I became involved with the equalities and human rights department and that's where I started banging the drum for equality and eventually helped to develop an LGBT staff network, which supports our staff as well as patients and services users. I've got rainbow flags plastered all around the hospital – we're saying to our patients and visitors "this is a safe space for you".
How have you found it working during a pandemic?
It's been difficult. Although I might not be directly patient-facing, much of my work is partnership related, so I've been dealing with an awful lot of COVID-19 related issues, such as personal protective equipment (PPE), staff health and safety, the treatment and support of the black, Asian and minority ethnic (BAME) community in North Wales – not just the patients, but the staff community too.
Everything's changed because there's been very little face-to-face interaction, it's all online at the moment. Although all my disciplinaries got put on hold during the first wave, I've been a lot busier during the pandemic – some days are back-to-back virtual meetings. Before the pandemic I would spend a lot of time travelling across North Wales so would have chance to think and reflect. So, in many ways it has been harder.
What advice would you give to people just starting out in nursing at this challenging time and during 2020 International Year of the Nurse & Midwife?
Aside from ensuring you're enrolled in the pension scheme(!), make sure you're getting the most from your job. Get involved with the RCN – become a rep, join campaigns, give to the nursing family. A lot of nurses are very giving, and they want to give to their patients – but make sure you give to your colleagues too!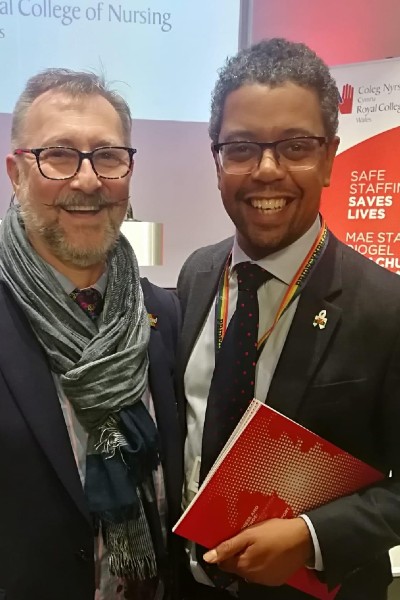 #YearoftheNurseandMidwife #2020InternationalYearOfTheNurseAndMidwife