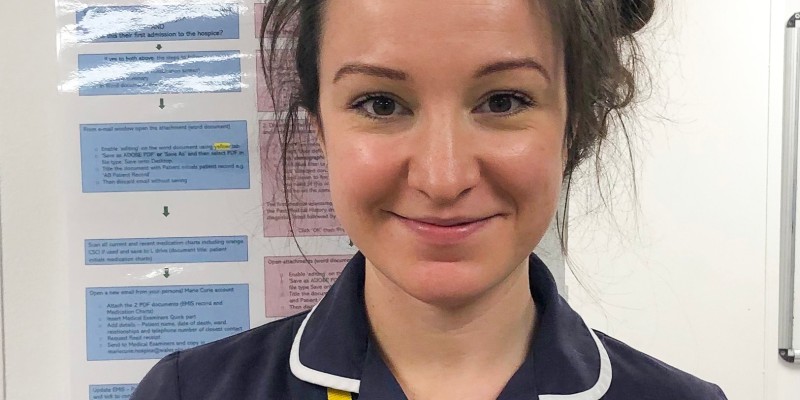 Why did you choose palliative care?
At the start of my second year as a nursing student I was working on the wards and there was a lady with heart failure. She was dying, scared and on her own. I sat with her for hours, just holding her hand and providing emotional support. I knew she only had a few hours left but nobody was with her. That experience made me realise the importance of palliative care. Being able to sit with her was something special that I could offer.
The death of my nan a few years ago was also a factor. We had district nursing input and the palliative care from district nurses at Marie Curie was absolutely exceptional. Even as a qualified nurse who knew what was happening with the medications, I still found it all really difficult. Having that support was amazing. It made me understand how good palliative care makes a huge difference to families and confirmed my passion for the field.
Before taking the step towards palliative care, I needed a few years to grow as a nurse and as a person. Community nursing helped me to do that.
How has the reality of working in palliative care matched your expectations?
It is different to what I was anticipating because it is so much harder. This is a specialist role with a great deal more involved than sitting and holding someone's hand. There are medications and symptom control, complex grieving and emotional support.
It can have a draining impact but it is definitely as rewarding as I hoped and I am so proud of having this job. People always say it must be really difficult to do it, which it is, but I love the work.
As a palliative care nurse, do you think there is a stigma around death?
There is a stigma because death is difficult for people to talk about. We encourage patients to discuss their wishes and future care planning. When people do this, it is much easier to meet their wishes and ensure everyone is comfortable. People are less anxious and it's easier to manage families if there is a clear understanding of the patient's wishes. It can offer a sense of closure as well. Not everybody wants to engage in planning and discussing these things. It can be distressing to talk about, because recognising and accepting when we are dying is incredibly hard. In a hardy country like ours, it's part of the culture to avoid talking about the end.
As a treatment-focused society, we're lucky to have the health service and health care that we have here. But that can distract conversations away from death. Services like Marie Curie have helped to break down the stigma by making it acceptable to speak about death when treatment options have been exhausted. Or even before that time, because early palliative care is beneficial and 'palliative care' does not mean the same as end-of-life care. It means symptom control and emotional support for any length of time. Talking openly about death is the best way to break the stigma. To encourage discussion, Marie Curie trialled 'Thoughts and Feelings Cards' with prepared statements about life and death for patients and families to read. This prompted method of chatting helps to make it less scary.
Although the stigma around death does need to be broken, we should always respect that each person is an individual. Our care should be specially tailored.
How has COVID-19 changed nursing at Marie Curie?
COVID-19 has made palliative care extremely difficult. A lot of care depends on building a relationship with the patient, especially in the community. When you place a barrier between the nurse and patient, whether it's a mask or a visor, everything becomes harder. You're not allowed to hold a hand or offer a hug or provide that basic support and compassion. This change is what I've found most difficult. When a person is crying because their mum has just died, it is so hard not to offer a hug.
On a practical level, the pandemic has meant a reduced number of patients in the hospice. Patients haven't been allowed visitors at certain times during the year and some have been admitted, knowing they've said goodbye to their families for the last time. It's been absolutely heart-wrenching for everyone. Only two people are currently allowed to be with end-of-life patients. So anyone with three children has to make a horrible decision. COVID-19 has massively impacted us. It's a horrible situation. A key part of our care planning is letting patients choose their place of care and death. But the pandemic put a stop to that because at times our available beds have more than halved.

Community palliative care became a lot more important during 2020. We worked the whole way through the year and I am as passionate about it as ever. It's a privilege to continue the service.