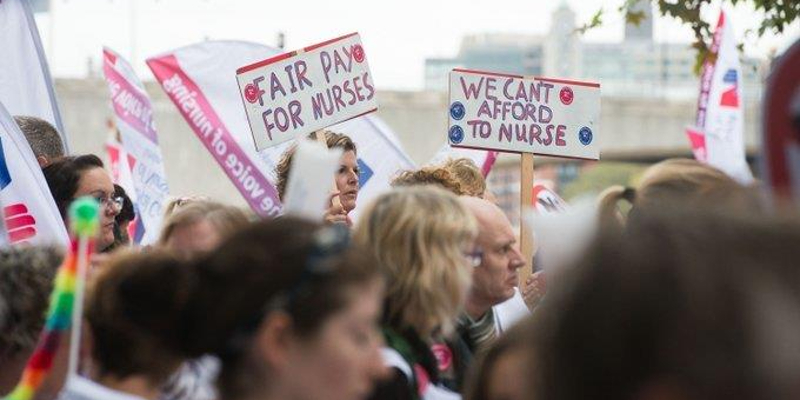 The Welsh Government has announced that NHS nursing staff in Wales will get a pay increase of at least £1,400 for 2022-23. This will be a consolidated uplift to full-time equivalent salaries, enhanced for the top of Band 6 and all points of Band 7 so it is equal to a 4% uplift. This was what the Pay Review Body (PRB) had recommended. This a real-terms pay cut, given that RPI inflation is currently at 11.7%.

Following meetings with Welsh Government to discuss the PRB recommendation, Welsh Government made it clear that there was no further funding available and thus there was no further negotiations on the pay award.

We've been campaigning for an NHS pay rise of 5% above inflation, to help address the cost-of-living crisis, encourage people to join and stay in the nursing profession and begin to restore a decade of underpayment.
The NHS pay award shows that despite the soaring cost of living and chronic shortage of nursing staff, ministers are refusing to listen.


Tonight (22 July), an emergency session of your elected Council voted that members in Wales will be balloted on industrial action.
RCN held a UK wide event on Tuesday evening to help members learn more about the pay award, what it means and what happens now. We are holding an RCN Wales member webinar to discuss next steps in Wales on Monday 25 July from 6-7pm.
The pay award announced today will be backdated to 1 April 2022 and paid regardless of what we do next. However, that doesn't mean our fight for fair pay is over.
Director of the Royal College of Nursing Wales, Helen Whyley, said: "Nurses will be outraged to learn of this award. This will do nothing to fill over 1719 vacancies for registered nurses in NHS Wales. It won't encourage nurses to stay nursing and it won't inspire a next generation to join them.
"And it is our most vulnerable people who risk feeling the impact. Research shows that where there are lower numbers of nurses, patients are up to 26% more likely to die. Conversely, a 10% rise in the number of degree-educated nurses is associated with a 7% reduction in patient mortality.
"Yet again this pitiful and insulting pay announcement does not even come close to making up for the fall in value of nursing pay, compared with a decade ago.
"By May 2021, the Welsh Government had received £2.6 billion in Covid-19 funding for day-to-day spending, a further £314 million at the autumn spending review. That December, it announced an extra £1.3 billion in NHS Wales funding over the next three years, and the Wales Governance Centre estimated £505 million of the Covid-19 funding remained available for the rest of the financial year.
"Nurses stay in the profession because they love their work. But this is a slap in the face for a nursing workforce that is stressed, devalued, and emotionally exhausted. Their continued goodwill to prop up the NHS isn't just waning it is disappearing, and many are leaving the profession they love. By no means is this a done deal. We will be consulting with our 26,000 members in Wales about the next steps the RCN will be taking."
Only one in five nurses in Wales say they have had enough time to provide the level of care to patients that they would like to according to the RCN Last Shift survey.
RCN Wales Board Chair and RCN Council member for Wales, Richard Jones, said: "Today's pay award will fail to recruit or retain the nursing staff our NHS in Wales desperately needs and certainly will do nothing to keep patients safe. Nursing staff face unrelenting pressures resulting in burnout across the board, greater sickness absences and a mass exodus of highly experienced and dedicated staff.
"We need a pay deal that comfortably sits above the rate of inflation to keep up with the sky-rocketing cost of living, whilst also reflecting the highly skilled, safety-critical profession of our members and nursing staff in Wales.
"No one enters the profession of nursing to become a millionaire, they join for a highly reputable and fulfilling career. However, seeing other nurses with no escape from unsustainable stress in both their work and personal lives does nothing to encourage recruitment and retention of nurses. Nurses spend their days giving everything they have to their patients, only to return home in some cases to rely on food banks to sustain themselves and their families, this is shocking and unacceptable.
"Members will be asked to please use your voice to decide the RCN's next steps."
To have your say in our upcoming consultation, it's important we have accurate details for who your employer is. Check these now at MyRCN.
The NHS pay deal announced by the UK government has an impact on the money available for NHS pay in Northern Ireland, Scotland and Wales. It is for the devolved governments in those countries to decide what pay rise to offer staff working there. Read more about England's announcement here.
The Scottish government recently offered NHS staff a 5% pay increase for the majority of members there.
The situation in Northern Ireland is complex as a government hasn't been formed following elections in May. We continue to demand the immediate restoration of the Northern Ireland government to address the escalating nursing crisis.