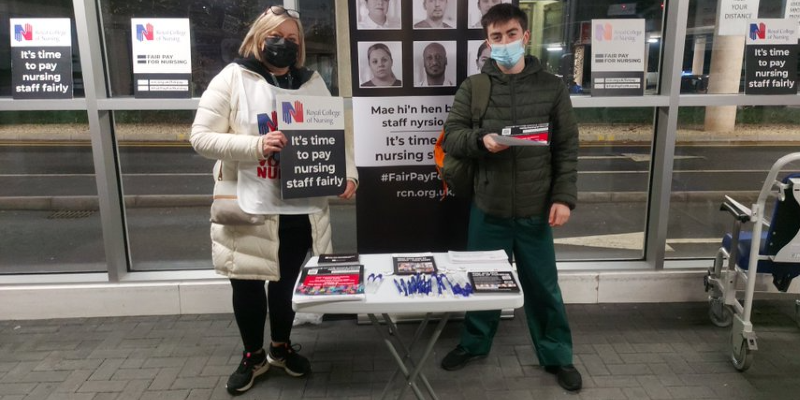 In Wales, 29.1% of eligible members voted, with 90.6% of those saying they'd be willing to take action short of strike. 55.9% of voters said they'd be willing to withdraw their labour in strike action.
The ballot was called after the vast majority of members who responded in our previous consultations said the 3% NHS pay award for 2021/22 is unacceptable.

Responding to the results, RCN Wales Director, Helen Whyley, said: "This result shows the strength of feeling in the nursing profession. The Welsh Government cannot keep blaming Westminster for the decisions it makes on funding NHS nurses pay. Poor pay leads to unfilled nursing posts and that means patients don't get the care they deserve. We will not give up until safe and effective nursing care is respected and protected. We will keep campaigning for ourselves, our profession, and our patients."

Your elected representatives on the RCN's Trade Union Committee will now carefully consider the results and decide on next steps with recommendations from the RCN Wales Board.
A statutory industrial action ballot would be required before any industrial action could take place. For such a ballot to be valid, at least 50% of members in Wales would need to turn out to vote. Members will be the first to know when decisions are made.

Chair of the RCN Wales Board, Richard Jones MBE, said: "Nursing staff don't consider industrial action lightly, but they must stand up for the safety of patients.
"We are missing 1719 registered nurse alone in the NHS in Wales. To reduce the risk to patients, the Welsh Government needs to keep nurses working in the NHS instead of shrugging their shoulders when more and more nurses leave because they feel disrespected and devalued. The public want the Welsh government to prioritise safe patient care - that's why over 2500 people have signed our petition to extend safe staffing legislation."


In England, results of the RCN's indicative ballot have been announced – see the RCN news page
In Scotland, members of the RCN Scotland Board will be meeting the Cabinet Secretary for Health and Social Care next week to discuss the results of their indicative ballot.
90% of members who voted said they'd be willing to take industrial action short of strike over the Scottish NHS pay deal. Almost 30% of eligible members voted in the ballot with six in 10 saying they'd be willing to withdraw their labour in strike action.
In Northern Ireland, the Minister for Health announced he will implement a 3% pay award for all Agenda for Change staff working in Health and Social Care. The RCN will consult with its members in Northern Ireland on the next steps forward.

Across the UK, our fight for fair pay continues and won't stop until our safety critical profession is respected and protected. Please stay and engaged and keep campaigning - for yourself, your profession, and your patients. Download campaign materials and spread the word about fair pay.