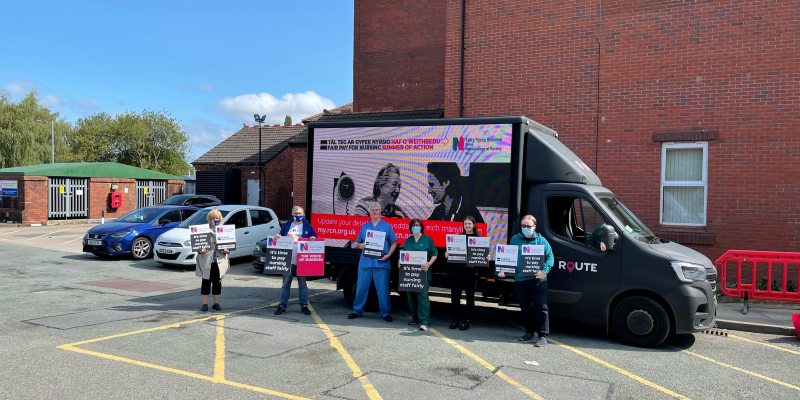 Members working for NHS Wales on Agenda for Change terms and conditions are being invited to take part in the ballot.

They're voting on what industrial action they'd be willing to take in support of the ongoing pay trade dispute with the Welsh government and NHS employers.

Civica, the independent scrutineer that organised the consultative ballot in September this year is organising the ballot on behalf of the RCN.

Civica will send an email to eligible members with further details and instructions of how to vote. Regular reminder emails will also be sent by Civica until the indicative ballot closes at 12 noon on 30 November 2021.

The result of the indicative ballot will not formally authorise industrial action. It will be used to inform the next steps RCN members might take. If it is clear that enough members would take some form of industrial action, then a further ballot may be organised to take this forward.

Commenting on the launch of the ballot, Richard Jones MBE, RCN Wales Board Chair, said: "We have heard platitudes from the government and repeated statements of apparent gratitude for how committed nurses are. Yet still, this Christmas, nursing professionals in Wales have been given nothing by the Welsh Government.
The Welsh Government claim they want to invest in health care, reduce waiting lists and vaccinate the population. Yet its nursing staff that are leading and doing all the hard work without the reward they deserve. It's not acceptable and we are pushing back."
RCN Wales lodged a trade dispute in October after the Welsh government decided to implement a single-year NHS pay deal for 2021-22 for Agenda for Change staff, without further discussion with the RCN after members voted that the 3% pay award was unacceptable.

Helen Whyley, RCN Wales Director, said: "Let's be clear: We never wanted to take this step, but the Welsh Government has left us no other choice. This is about safe and effective patient care when there are over 1700 nursing vacancies in the NHS.
Our members have told us they cannot stay in the NHS because they are under-resourced to deliver the high standard of care required by their patients and not being rewarded with fair wages for the complex and safety critical role they do. The cost of living, inflation and tax has risen steeply which renderers this so called 3% pay rise into a pay cut".

You can access FAQs about the ballot in Wales at rcn.org.uk/FairPayWales

You can find out more about how industrial action is initiated, organised and safely carried out by reading our Industrial Action Handbook.

Across the UK, our fight for fair pay continues and won't stop until our safety critical profession is respected and protected. Like Wales, members in England are being balloted on Industrial Action.

In Scotland, members working for the NHS are already voting on what industrial action they'd be willing to take over pay in an indicative ballot that closes on 8 November.

In Northern Ireland, we are still waiting for a formal pay announcement for health and social care staff.

Our Fair Pay for Nursing campaign aims to secure a fully-funded 12.5% pay increase for all nursing staff covered by Agenda for Change terms. How governments in the UK respond to this demand will indicate what they believe nursing staff across the independent sector deserve too.

It's time to pay nursing staff fairly. Join our fight.